Workshop for teenage makers at FabLab.iMAL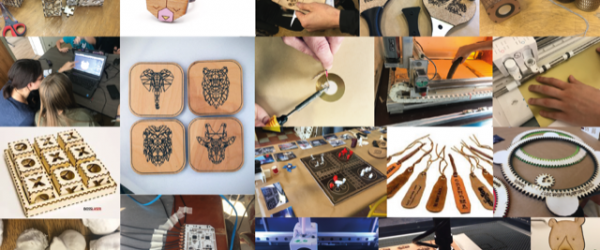 Are you over 14 years old? Are you a maker? Fan of the digital? Curious? Creative? Preparing a school task or just want to have fun? Already have an idea in mind on what to make?
Then our workshops at FabLab.iMAL, in the frame of the Fablab Mobile-project, are something for you! Together we will develop some great DIY ideas to learn fablab techniques: lasercut, 3D printing, sewing, drawing etc. and we will help you to make, at your choice, some fashion accessories, jewellery, lamps, stickers, mini games etc. In the end you will leave with your personalized item that you made yourself!
Practical Info
Upcoming workshops:
Wednesday May 8 2019, 14:00 - 17:00
Wednesday May 22 2019, 14:00 - 17:00
Wednesday June 5 2019, 14:00 - 17:00
Please register on this form.
Address:
Fablab.iMAL
Koolmijnenkaai 30-34 Quai des Charbonnages
1080 Brussels

Entrance:
free (max. 5 hours)