Early Summer Soundscapes
Jeudi, 4 Juin 2009 | 22:00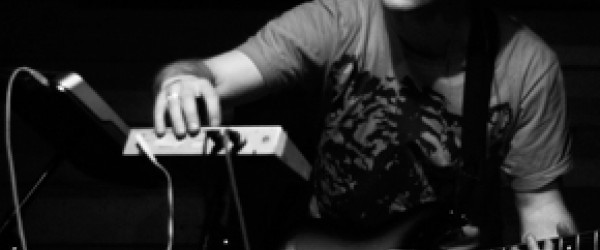 Christopher Willits has been instrumental in redefining the guitar in the digital age. Using custom-built software, Willits morphs his guitar playing into warm folded rhythms of texture and melody. Named "the center cell of a complex indie rock-avant-garde-electronic art Venn diagram in the Bay Area" (San Francisco Bay Guardian), and "The Picasso of Sound" (Tokafi Magazine), Willits defies genre distinctions while still defining a sound of his own. His guitar lines fold and weave into each other creating complex patterns of interlocking rhythm, melody, and texture.
With over 15 music releases over the last 7 years, Willits's passion is obvious. 2006 marked the release of "Surf Boundaries" a critically acclaimed wash of Willits' guitars and vocal harmonies on the incandesent Ghostly International label. Every release sees Willits taking chances and expanding his creative vision.
In addition to his solo work, a vast range of music collaborations, sound installations, and film/video projects compel him. His band project Flossin involves Zach Hill, Kid606, Nate Boyce, and Matmos, The North Valley Subconscious Orchestra is Willits and Brad Laner, formerly of Medicine. Other frequent collaborators include Scott Pagano, Taylor Deupree, and most recently his amazing 2008 release "OCEAN FIRE" w/Ryuichi Sakamoto. Willits' numerous releases and collaborative projects cover a broad spectrum of musical styles, and include one main commonality: Willits' unique approach to the guitar and sound.
More on www.christopherwillits.com
Quix is a visual and sound artist living and working in Brussels. This gentleman will be showing a 3 channel video installation based on 3 colors of slowly morphing dimentions that is a deep,rich colorful combination that evokes the calm, and pristine. Ultimately,it will leave you drueling in your bean bag chair.
More on www.quix.org
In the last decade Christina Vantzou has gone from an art student playing around with motion graphics and animations to designing projections for touring musicians, co-founding The Dead Texan with her partner Adam Wiltzie and eventually creating her own solo audiovisual project. The Dead Texan toured extensively in 2005-2006 and in 2007 Christina was commissioned to make animations and play onstage with Sparklehorse. In the meantime commissions for videos also developed into collaborations with Christopher Willits, Fovea Hex, Tokion magazine, Interpol, and Mtv Netherlands.
Christina started playing around more seriously with on her own music in 2007 and in April 2009, she debuted her solo compositions at the infamous Monkeytown in Brooklyn, New York. Currently based in Brussels, Belgium, Christina's career as an artist is steered by projects that link visual art, music and design. With a background in Fine Art, Christina's visual style reflects her interest in illustration, graphic design, film & printmaking while her ambient, spacious, and sometimes-angelic compositions create a perfect union with her otherworldly, feminine, and glacially-paced animations.
More on christinavantzou.com
Une archive : 1999-2010-2019
Cette page est une archive du site d'iMAL tel qu'il existait entre 2010 et 2019. Il documente activités et projets créés depuis 1999.
Pour notre actualité et nos activités plus récentes, veuillez vous rendre sur notre nouveau site https://imal.org