Tangible Feelings
16 Septembre - 18 Septembre 2011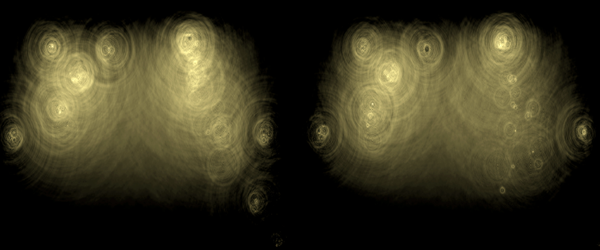 EEG (et le biofeedback) pour les arts: Symposium
Vendredi 16 septembre 2011 - 10:00-17:00
Ce symposium d'une journée rassemble des artistes, scientifiques et universitaires sur l'utilisation de l'EEG et du biofeedback dans le champs artistique. Au travers de cet échange autour des intentions artistiques et de la technologie, nous espérons faire la lumière sur les possibilités et les illusions suscitées par la lecture de nos ondes cérébrales.
Programme
10:00 Bienvenue
10:15 Peter Beyls: Human-machine Interaction in Mutual Understanding
10:45 Professeur Marc Van Hulle: The Mind Speller project
11:15 Pause café --------
11:30 Luciana Haill (IBVA)
12:00 Christophe De Boeck: Staalhemel
12:30 Pause déjeuner --------
14:00 Thierry Castermans: Detecting biosignals with the Emotiv EPOC headset : a review
14:30 Mattia Casalegno & Enzo Varriale: Unstable Empathy
15:00 Alexis Chazard: Post traumatic voyager
15:30 Pause café --------
15:45 Kiel Long: The static organ
16:15 Valery Vermeulen: Montage Cinema Revived by the EMO-Synth
17:00 Drink!
Plus d'info sur les intervenants et artistes participants...
Inscription
En raison de l'espace limité du lieu, nous ne pouvons plus accepter d'inscriptions.
Vous pourrez néanmoins suivre le symposium, ainsi que le premier jour de l'atelier EEG en vidéo sur notre Ustream.
Ven 16/09: Symposium + Vernissage + Concert
Sam 17/09: Atelier + Expo + Concert
Dim 18/09: Atelier + Expo
Entrée libre
Inscription recommandée pour le symposium.
COMPLET!

Lieu: iMAL
Stream vidéo de l'événement
Vendredi et Samedi sur Ustream
Une archive : 1999-2010-2019
Cette page est une archive du site d'iMAL tel qu'il existait entre 2010 et 2019. Il documente activités et projets créés depuis 1999.
Pour notre actualité et nos activités plus récentes, veuillez vous rendre sur notre nouveau site https://imal.org