Arts/Sciences #17: Frank Theys
Wednesday, 18 February 2015 | 19:00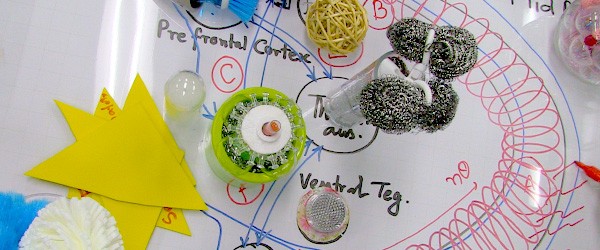 Thinking 3 Cultures: Art, Science and Society
For this first Arts/Sciences gathering of the year, iMAL invites Belgian film & theater maker and visual artist Frank Theys for a lecture on "Thinking 3 cultures: art, science and society".
In this philosophical journey he will talk about how modern society was founded by the segregation between science and society since the beginning of our Modern Times. How did this 'split-thinking' in the history of science philosophy eventually influence modern art philosophy in its own tendency to take distance from society and seek for its own essence? The past decades both art and science however moved in the opposite direction and are facing their social responsibility/relevance. In this lecture Frank Theys will touch on the viewpoints and consequences of these new intertwining tendencies, seen from a social, a scientific and an artistic approach.
About Frank Theys
Frank Theys (° 1963, Brussels) is a film and theater maker and visual artist. He lives and works in Brussels and Amsterdam.
His audiovisual work varies from video and interactive installations to documentary, experimental film and theater performance and has been acquired for the collections of e.g. the MOMA (New York), SMAK (Ghent), the Museum for the Moving Image (New York) and the Centre National de la Cinématographie in Paris.
The work of Frank Theys is characterized by a scientific approach to existential reflections. Technology itself has become subject and tool for drama. Artistic concepts, dramatic subjects and characters are often scientifically analyzed, human figures transformed by the technical manipulation of the image; scientific imagery is approached artistically.
His documentary trilogy Technocalyps (2006) in collaboration with Michel Bauwens - about new developments in technology and the prospect of transcending human limits - has generated a lot of response and discussion across the cultural and the scientific world. It has been the central piece of several exhibitions and congresses around the world.
Frank Theys is considered one of the founders of Belgian media art. In 1989 Theys cofounded the arts centre Argos. It became an international renowned place for video art and new media. He was also cofounder of Dziga, Belgian union for media artists, of which he has been alternatively the chairman and secretary until 2007.
After being house director for the Victoria Theatre (Ghent), he started his own media production company Votnik.. In 2013, together with fellow media artists Ria Pacquee, Koen Theys, Wim Catrysse, Harald Thys & Jos Degruyter and art curator Ulrike Lindmayr, he founded Escautville, a collective management platform focused on the specific needs of media art practices.
Frank Theys has taught at St-Lukas Film School (Brussels) and at DasArts, multidisciplinary Master's course in the Performing Arts at the Amsterdam School for the Arts (AHK). He has been a visiting teacher and lecturer at universities, film and art schools worldwide. He currently teaches art at the LUCA Art Academy in Ghent (Belgium) and art philosophy at the KABK ArtScience Interfaculty in Den Hague (The Netherlands). He is a researcher at the Catholic University Louvain (Belgium) and at the Free University Brussels (Belgium).
"Be it in the form of theatre, video installation, fiction or documentary, Frank Theys always undertakes a profound reflection on the imagery in its illustrative quality and suggestive power as well as for its aesthetic and social layering; and this in function of the used medium and its distribution channels. But far from comforting us in our habit to distinguish between those genres, THEYS places them in a dialogue that largely surpasses their intrinsic limits." Alexander Streitberger in DITS
Practical Info
Doors: 20:00
Lecture: 20:15
The presentation is in English
Free Entrance
Bar open!
Location: iMAL
30, Quai des Charbonnages Koolmijnenkaai
1080 Brussels
Streamed live on iMAL.tv
Doors: 20:00
Lecture: 20:15
The presentation is in English
Free Entrance
Bar open!
Location: iMAL
30, Quai des Charbonnages Koolmijnenkaai
1080 Brussels
Streamed live on iMAL.tv
An archive : 1999-2010-2019
This page is an archive of the iMAL website that operated between 2010 and 2019. It compiles activities and projects made since 1999.
For our most recent news and activities, please check our new website at https://imal.org