warning: unlink(/tmp/19198.XML_API___MODSEC_PREVIEW_VENDOR__.0a9bd528.tmp.cache): Operation not permitted in /home2/imalorg/legacy.imal.org/drupal/sites/all/modules/flickrapi/phpFlickr/phpFlickr.php on line 115.
Synesthésie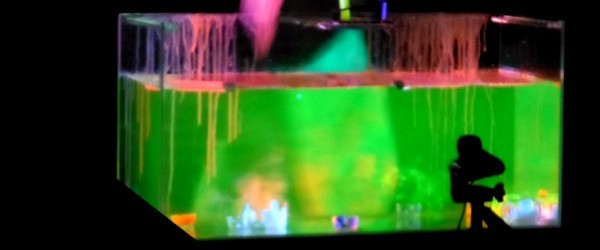 residency by Audrey Harlange, Rachid Moro and Lucie Ducenne
"Synesthésie" est une performance audio/visuelle qui explore les couleurs et la dynamique des fluides comme interfaces pour interagir avec des machines musicales. Un aquarium, rempli d'eau et baigné de lumière noire, crée un espace multidimensionnel. A l'aide d'artefacts luminescents et de liquides pigmentés, une performeuse esquisse des volutes sonores, dessine des vrombissements et livre, grâce à cette palette synesthésique, un récit abstrait et nébuleux.
Au fur et à mesure, les fluides de densités variables se mélangent à l'eau. Sons et couleurs s'unissent par l'action de la performeuse et créent une relation symbiotique entre les sens. La complexité graduelle des formes générées, leur fusion et l'opacité progressive de l'image provoquent un crescendo dans la narration sonore, jusqu'au chaos.
About the artists:
Kollisions est une plateforme de diffusion et de création réunissant des artistes à la croisée des arts plastiques, numériques et urbains. A travers ce projet, Audrey Harlange expérimente, lance des idées et invite des artistes à se mélanger et créer ensemble. Multipliant les approches, sensible aux pratiques éphémères, elle imagine aujourd'hui des microcosmes symboliques qu'elle rend sous forme d'installations ou de dispositifs mêlant tour à tour street art, food design ou data expressionism. Par ses lignes épurées, powerPlant découle de l'approche résolument minimaliste de la plasticienne Lucie Ducenne. Les mouvements respiratoires de cette sculpture sensitive, insufflés par l'action de turbines, font écho à d'autres installations immersives et sensorielles de l'artiste, réunies sous le titre d'Invisible tactile, où elle contraint le visiteur et le mène à éprouver une sorte de choc, entre pression et dépression. Rachid Moro, spécialiste de l'information et producteur de musique électronique, s'applique à créer ses propres instruments et effets ou à détourner des outils informatiques existants pour en développer de nouveaux. Plusieurs domaines de recherche marquent tout particulièrement sa pratique : la création d'interfaces utilisateurs tangibles, le physical computing et l'utilisation artistique de données brutes.
Lien vers la page Facebook de powerPlant
An archive : 1999-2010-2019
This page is an archive of the iMAL website that operated between 2010 and 2019. It compiles activities and projects made since 1999.
For our most recent news and activities, please check our new website at https://imal.org