Connecting Cities symposium
Friday, 11 March 2016 | 12:00 - 18:00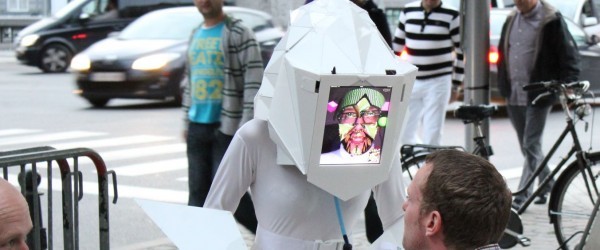 Connecting Cities symposium - speakers
Video archive
Programme
Welcoming words
Yves Bernard
Director, iMAL - Center for Digital Cultures and Technology
Barbara Gessler
Head of Unit Culture at the Education, Audiovisual and Culture Executive Agency (EACEA)
Susa Pop
Initiator of Connecting Cities Network
Connecting Cities Network facts & statements
Keynote presentation
People-Centered Experience Design of Transient Spaces in Hybrid Cities and Airports
Dr. Dr. Norbert Streitz
Scientific Director, Smart Future Initiative
From In/Visible City to Open Source City
Moderator: Tanya Toft
Institute of Arts and Cultural Studies, Copenhagen University
Darko Fritz
Museum of Contemprorary Art Zagreb
Loraine Furter
Hybrid Publishing Group
Nerea Calvillo
Medialab Prado
Intermezzo by Jeremy Bailey's Master/Slave Invigilator System
From Networked City to Translocal City
Moderator: Susa Pop
Diana Civle
Atklāj Rīgu // European Capital of Culture Riga 2014
Céline Jouenne
Videospread // ECoC European Capital of Culture 2013
Gernot Tscherteu
Media Architecture Institute
From Participatory City to Co-Creating City
Moderator: Yves Bernard
Cristina Ampatzidou
University of Groningen
Niels Wouters
University of Leuven - Department of Architecture
Roeland Dudal
Architecture Workroom Brussels
Master/Slaves Invigilator System by Jeremy Bailey
Telepresence performance in the streets of Brussels. Starting point at iMAL. More info.
About the speakers
Dr. Dr. Norbert Streitz
Dr. Dr. Norbert Streitz (Ph.D. in physics, Ph.D. in cognitive science) is a Senior Scientist and Strategic Advisor with more than 30 years of experience in information and communication technology. Founder and Scientific Director of the Smart Future Initiative (SFI) launched in 2009. From 1987-2008, at Fraunhofer Institute, Darmstadt, holding positions as Deputy Director and Division Manager founding, e.g., the research division "AMBIENTE - Smart Environments of the Future". Teaching appointment at Department of Computer Science, Technical University Darmstadt for more than 15 years. Before Fraunhofer, Assistant Professor at the Technical University Aachen (RWTH). At different times of his career, he was a post-doc research fellow at the University of California, Berkeley, visiting scholar at Xerox PARC and at the Intelligent Systems Lab of MITI, Tsukuba Science City, Japan.
He has published/edited 20 books and authored/coauthored more than 140 papers. His research and teaching activities cover a wide range of areas: Cognitive Science, Human-Computer Interaction, Hypertext/Hypermedia, Computer-Supported Cooperative Work (CSCW), Ubiquitous Computing, Ambient Intelligence, Privacy Enhancing Technology, Interaction and Experience Design in Hybrid Worlds, Smart Cities and Smart Airports, Smart Privacy, Smart Food. Manager of EU-funded projects, review/evaluation expert for the EU, member of Editorial and Advisory Boards, consultant, keynote speaker.
Tanya Toft
Tanya Toft is a curator, researcher and lecturer on urban digital art as a domain of criticality in the media city. She is a Ph.D. Candidate at the Institute of Arts and Cultural Studies, Copenhagen University, previous Visiting Scholar at Columbia University and previous Research Fellow at Curatorlab, Konstfack University. She is on the International Curatorial Advisory Board of the Open Sky Gallery in Hong Kong and Curatorial Advisor for Verve Cultural in São Paulo, where she has co-curated several exhibitions for the SESI Digital Gallery with Marília Pasculli, including the São Paulo Urban Digital Festival in 2013 and 2014. She was invited by Scandinavia House in New York City to curate Voyage to the Virtual (2015) and has since 2013, she has been Associate Curator with The Streaming Museum in New York City, where she curated and produced the traveling moving image exhibition and public program Nordic Outbreak (2013-2014) with Nina Colosi, in NYC and across the Nordic region. She is co-editor of the Connecting Cities Publication (2016) and also editor of the upcoming book Digital Dynamics in Nordic Contemporary Art (2017).
Darko Fritz
Since the late 1980s, the work of artist, curator and researcher Darko Fritz has revolved around a significant investigation into the use of technology in culture. His curatorial work and research on New Tendencies and early computer art has earned international acclaim with exhibitions at Neue Galerie, Graz (2007), ZKM, Karlsruhe (2009) and Akbank, Istanbul (2014). In 2010 he started the research "The beginning of digital arts in the Netherlands (1955 - 1980)", awarded by grants by Mondriaan Fonds. Fritz is founder and programmer of the grey) (area – space for contemporary and media art since 2006.
> darkofritz.net
Loraine Furter
Loraine Furter is a Swiss graphic designer and researcher based in Brussels, specialized in editorial design and hybrid publishing. After having been the coordinator and curator of the 2014 edition of the Fernand Baudin Prize, a Belgian Best Book Design Award, she worked as a researcher and designer with the Hybrid Publishing Consortium at the Centre for Digital Cultures in the Leuphana Universität. She is now part of the Hybrid Publishing Group and works as an independent graphic designer and curator. Loraine designs and edits paper publications as well as web and digital ones, and is particularly interested in the interaction between these media.
> designed.with.meteor.com/by
Nerea Calvillo
Architect, lecturer, researcher and curator, she is Assistant Professor at the Centre for Interdisciplinary Methodoligies (University of Warwick). The work produced at her office, C+ arquitectos, and her visualization projects like In the Air have been presented, exhibited and published at international venues. She is currently a Poiesis Fellow (NYU) and Medialab-Prado´s curator of the Connecting Cities Network EU project on media facades.
> cmasarquitectos.net intheair.es
Cristina Ampatzidou
Cristina Ampatzidou is a researcher and writer with a background in Architecture and Urbanism and editor in-chief of Amateur Cities. Currently pursuing her PhD at the University of Groningen on the topic of gaming and urban complexity, Cristina is also a regular contributor to urbanism and architecture magazines and a collaborator of the Architecture Film Festival of Rotterdam.
Niels Wouters
Niels Wouters is a design researcher and creative technologist who prototypes, engineers, deploys and evaluates urban technologies in community environments. These technologies aim to highlight local urban qualities and to address contextual challenges. His work is typically in-the-wild, where local citizens are actively involved in participatory design processes.
> nwt.rs
Roeland Dudal
Roeland Dudal (°1977, Bruges) is founder and partner of Architecture Workroom Brussels, a think-and-do tank for innovation in architecture, urban planning and other fields relating to spatial development. Roeland studied architecture at the University of Ghent. From 2001 to 2003 he was coordinator of the urban think tank Studio Open City (Brussels). From 2004 to 2009 he was project leader for the Flemish Architecture Institute (Antwerp). In 2008 he was production coordinator of the Belgian Pavilion on the 11th International Architecture Biennale in Venice.
An archive : 1999-2010-2019
This page is an archive of the iMAL website that operated between 2010 and 2019. It compiles activities and projects made since 1999.
For our most recent news and activities, please check our new website at https://imal.org