Tangible Feelings
15 September - 17 September 2011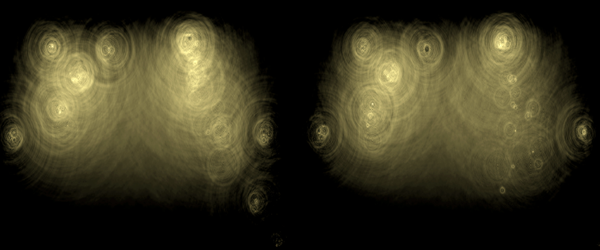 About the speakers and artists
Peter Beyls (BE)
Peter Beyls is a Belgian born artist/composer working with computer media since the Seventies. He explores computer programming as a medium for artistic expression and develops generative systems in music, the visual arts and hybrid formats. He studied music and computer science at EMS, Stockholm, the Royal Music Conservatory, Brussels and University College London and holds a PhD in Computer Science from the University of Plymouth, UK. Beyls published extensively on various aspects of digital media, in particular, on the application of Artificial Intelligence for artistic purposes. His work was widely exhibited and performed at conferences like Siggraph, ICMC, Imagina, ISCM, Generative Arts and ISEA. Beyls was guest lecturer at the University de Quebec, California Institute of the Arts, Queens University Kingston and Osaka Arts University. He currently lectures on Theory and History of Media Art at KASK, University College Ghent, coordinates research at the KASK Interaction Lab and lectures on Sound Art and Generative Systems at the St Lukas University College of Art and Design Brussels.

Professor Marc Van Hulle (BE)
Marc M. Van Hulle received the M.Sc. degree in electrotechnical engineering and the Ph.D. degree in applied sciences from the Katholieke Universiteit Leuven (K.U.Leuven), Belgium. He also received the B.Sc.Econ. and M.B.A. degrees. He received the Doctor Technices degree from Queen Margrethe II of Denmark, in 2003, and an Honorary Doctoral degree from Brest State University in 2009.
He is currently a Full Professor at the K.U. Leuven Medical School, where he heads the Computational Neuroscience Group of the Laboratorium voor Neuro- en Psychofysiologie. He has authored more than 200 technical publications on computational neuroscience, brain computer interfacing, computer vision, data mining, and signal processing. In 2009, he received the SWIFT prize of the King Baudouin Foundation of Belgium for his work on the Mind Speller, which received a world-wide press coverage. In 2010, he received the red dot design award for the Mind Speller, one of the most prestigious design prizes.
www.mindspeller.com
www.simone.gbiomed.kuleuven.be
Luciana Haill (UK)
Luciana Haill is an artist working with Neurotechnologies for over 18 years to sample human brains' electrical oscillations (EEG) emitted during Altered States of Consciousness. Through her practice she creates interactive telematic artworks, performances and sensory environments. She has appeared on TV and Radio triggering 3D spatialised sounds via brainwaves and collects 1000s of samples for her "EEG Thought Depository".
Altered states of consciousness can occur passively through daydreaming or reverie & upon awakening. Luciana's experience of meningitis and fever as a teenager led her to this fascination with imaging the intangible in the brain. Dominating her work are science art projects exploring Oneironism (lucid dreaming), Hynagogia, Hypnosis and forms of meditation.
She is currently Visiting Research Fellow at CCNR - Centre for computational Neuroscience and Robotics in Sussex University and 'Head of Augmented Consciousness' for The Institute of Unnecessary Researh in the UK
www.brainmachine.co.uk
lucianahaill.wordpress.com
Christophe De Boeck (BE)
The work of Christoph De Boeck concerns installations or performances in which acoustic energy is divided over spaces and objects. The meaning of the work is defined as much by this distribution of energy as it is by the composition or sound content itself.
In 2007 he creates a circle of mansized steel sheets which enclose audience and musicians. Transducers turn these steel plates into vibrating membranes functioning as loudspeakers. The installation responds to the presence and proximity of visitors. For the evening concert performance De Boeck aka Audiostore and Yves De Mey aka Eavesdropper wrote a score for 12 steel plates.
Christoph De Boeck is co-artistic director of Deepblue, an interdisciplinary production structure based in Brussels, founded and directed by himself with choreographers Heine R. Avdal and Yukiko Shinozaki.
He also collaborated with Eric Joris/CREW, Patricia Portela and Lawrence Malstaf.
Thierry Castermans (BE)
Thierry Castermans holds a PhD degree in physics and is currently a postdoctoral researcher at TCTS lab (Théorie des Circuits et Traitement du Signal), University of Mons, Belgium. He is actively involved in the Biofact European research project, aiming at the development of the brain-computer interface of an intelligent lower limb orthosis, driven by the patient's intentions.
Mattia Casalegno (US/IT)
Mattia Casalegno is a multidsciplinary artist who's able to connect fields and disciplines so distant as neurosciences, fashion, biology, electronic music, chemistry and architecture producing works dealing with notions of perception, synaestesia, and audiovisual improvisation.
He often collaborates with scientists, musicians, architects and designers in the production of interactive installations, live-media performances and sensorial-partecipative interfaces.
His aesthetics are driven by the research in the relationships between the fields of information (in-forms, to give form), biology (bio-logos, discourse on living) and ecology (in the Batesonian term), pointing on the centrality of code as tools and metaphor of his poetic.
He is represented by the Cimatics Agency in Europe and writes regularly about new media and art on the online magazine Digicult.it.
He collaborated with and had commissions from FENDI, Jean Paul Gaultier, Roberto Capucci, Sonia Rykiel.
His works and performances have been showed in institutions, among others, such as MADRE -Contemporary Art Museum, PAN, Roma Auditorium in Italy, Mutek in Canada, Le Cube in France, OFFF in Spain, iMAL and Cimatics in Brussels, LACMA-Los Angeles County Art Museum in US.
Enzo Varriale (IT)
His work consists of audiovisual performances, VJ sets and works of visual design that cross the margins of fusion between acoustic and visual domain. Starting from the raw information extracted from complex and chaotic domains (human brain activity, the World Wide Web, the daily television flow) Enzo Varriale applies a shift of the intrinsic structure of data through digital manipulation, creating audio-visual representations of it.
During the past years he collaborated with many artists and has been invited to show in several national and international events with audiovisual performances, installations and VJing shows. In 2005, in Rome, he conceived and founded the collective Lanvideosource with Gianluca Lisco (www.lanvideosource.net).
Enzo also worked with Mattia Casalegno and collective Kinotek (www.kinotek.org) for the production of audiovisual performances and installations based on new media. He taught courses and workshops on generative visual softwares and on video art techniques.
At present, Enzo his collaborating with Maurizio Martusciello (aka Martux_M) and Gianpaquale Rina (aka Kocleo) for the creation of audiovisual works, cross-media performances and the production of electronic music.

Alexis Chazard (FR)
"Polymedia" artist, Alexis Chazard is researching and programming in the fields of interactivity and programmatic fictions. Teaching in digital design at ESAD-GV in Valence, he also led for ten years a lecture related to digital installations at Paris 8 University. Since 2009 he's involved in critically questioning the interactive design of Brain Computer Interfaces.
www.cela.etant.free.fr/alx
Post traumatic voyager
Kiel Long (UK)
Long is an artist working with audiovisual media and interactive installation, focusing on new ways of aesthetic engagement of the participant. His works consider technology through an artistic approach that extends human imagination not only through technical novelty but through new aesthetics.
His most recent and continuing project The Static Organ is a collection of works that build upon the brain activity of the user represented through a variety of media, sound and new forms of interaction. Long's works utilise biofeedback technology in order to display information based on the user's cognitive state that aim to guide the user through self-reflective experiences.
Valery Vermeulen (BE)
Electronic musician, music producer, new media artist and developer of new interactive multimedia software and installations. He obtained a PhD in pure mathematics at the University of Ghent (2001) where he conducted fundamental research in the area of algebraic group theory and geometry. Between 2001 and 2005 Vermeulen worked at the Institute for Psychoacoustics and Electronic Music (IPEM, University of Ghent) on a research project focusing on the link between music and emotions. Meanwhile he started writing and recording music in his own production studio. Since 2004 Vermeulen has been elaborating the development of the EMO-Synth and other art projects focusing on sound, music, mathematics, artificial intelligence and affective computing. Besides his artistic activities Vermeulen currently works as a statistical expert and consultant and guest lecturer. As of 2007 he also studies music production at the Royal Conservatory of Ghent.
An archive : 1999-2010-2019
This page is an archive of the iMAL website that operated between 2010 and 2019. It compiles activities and projects made since 1999.
For our most recent news and activities, please check our new website at https://imal.org