Workshop : Size Matters? Evaluating prosperity and growth workshop on May 31st – Brussels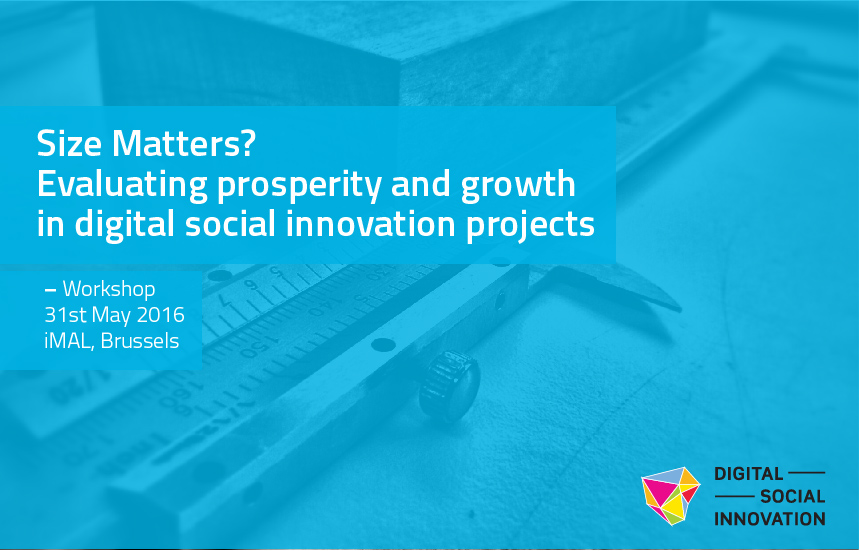 Join 4-hours workshop to evaluating how open source, maker and digital projects can grow, how they are growing and having a better impact and what factors and values make a project sustainable beyond financial and commercial parameters.
The hands-on session focuses on key questions such as:
– can makers project scale considering societal and community goods as parameters?
– what is a sustainable way of growing as an innovator?
– can the social impact be the driver of bottom-up innovation?
When will it happen?
Tuesday 31th May afternoon in Brussels at iMal Center for Digital cultures and technologies in the occasion of the first European Maker Week.
What will we make?
Size matters? Come and help us to answer this question and to create a maker scale, a dynamic open source tool that will support the community of social innovators to grow considering values such as the creation of a community, the technological openness, the communication and the financial sustainability.
Who we are looking for?
Are you developing a project around a societal issue such as energy consumption, alternative ways of distributing or making goods, open systems for care giving, open source hardware, social innovation policy for local communities, innovative services and economic business models? Makers, change makers, business experts are all welcome to participate.
Who is organizing the workshop?
On behalf of DIS4EU consortium:
Serena Cangiano (SUPSI Lugano) – workshop leader
Zoe Romano (WeMake) – workshop leader
Registration (FREE)
More information about the workshop will be spread via email.
Join the workshop group by filling this form
An archive : 1999-2010-2019
This page is an archive of the iMAL website that operated between 2010 and 2019. It compiles activities and projects made since 1999.
For our most recent news and activities, please check our new website at https://imal.org