Les Daltoniens: Beatbox Looper
10 February - 21 February 2014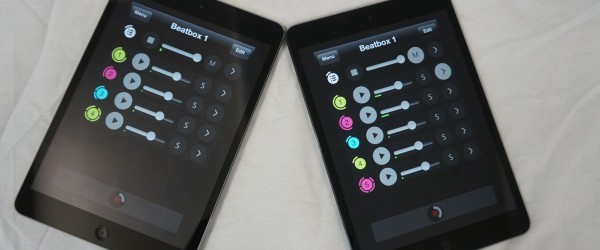 Beatbox Looper est un sampler multi-pistes spécialement conçu pour les Human Beatboxers.
Cette application I-pad/I-phone permet d'enregistrer des rythmes, mélodies et sons spéciaux sous forme de boucles sonores superposées en attribuant à chacune des pistes et des effets parmi ceux proposés.
Munis d'un casque audio pour éviter que vos précédentes pistes ne repiquent dans le micro de l'Iphone ou de l'I-pad, il est possible d'enregistrer un nombre presque infini de pistes superposés les unes aux autres.
Cette application a déjà été téléchargée + de 20.000 fois et la compagnie des Daltoniens vient d'acquérir 15 mini-Ipad afin de dispenser des stages exploitant l'application « Beatbox Looper ».
Durant ces stages, les participants peuvent mettre en réseau les morceaux composés afin de s'en servir comme « partition numérique ». Prochainement les participants pourront faire jouer par les I-pads, des partitions qu'ils auront rédigées durant le stage, grâces à une proposition d'écriture de symboles de human beatbox par un collectif de beatboxer belges associés, à la compagnie les Daltoniens.
Credits
Distribution :
Mise en scène : Yannick Guégan
Assistant à la mise en scène : Thomas Delvaux
Beatboxeurs : Blackadopo, Yannick Guégan
Chanteuse : D-WA
Graff/d-jay/danse : Goss1 ou KO-Neckst
Scénographie/Costumes : Claire Farah
Nouvelles technologies : Olivier Meunier, Pierre Guilluy, Quentin Houben
Images : Florian Jubin
Production : ADKTRASH asbl
Avec le soutien de la Fédération Wallonie Bruxelles, service des arts numériques et le cabinet de Mme Fadila Lanaan (ministre de la culture).
Partenaires : le Centre culturel Bruxelles Nord, le théâtre des Doms, Léa Chapon, Anteloop et Incredibox et iMAL, Center for digital cultures and technology.
Soutiens : La maison des cultures et de la cohésion sociale de Molenbeek, Le centre culturel Jacques Franck, Lézards urbains, le centre culturel de Charleroi, les Chiroux à Liège et la Maison des Cultures de Ath.
An archive : 1999-2010-2019
This page is an archive of the iMAL website that operated between 2010 and 2019. It compiles activities and projects made since 1999.
For our most recent news and activities, please check our new website at https://imal.org