Media Facade Reloaded
28 September - 1 October 2011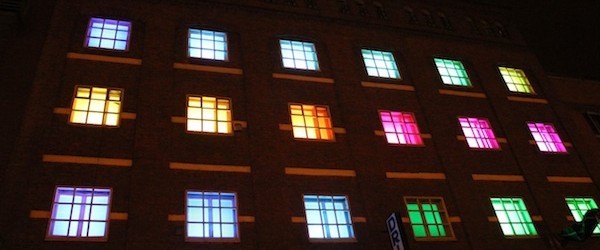 À propos de miniMAL
Les "Média Façades" ne sont plus le privilège des grandes banques ou institutions. Aujourd'hui, avec l'évolution technologique, des petites organisations et des groupes d'individus peuvent eux aussi diffuser des contenus visuels dans le paysage urbain, proposant des programmations produites suivant leurs propres idées et critères.
Les politiques d'usage de l'espace public en tant que medium pour la diffusion de contenu est d'ailleurs une des questions posées par le Media Facades Festival Europe 2010, durant lequel nous avons décidé de mettre sur pied notre propre média façade temporaire le long du canal.
Avec la baisse du coût des technologies LED (Diode ElectroLuminescente), de nouveaux types d'écrans, de projecteurs et de dispositifs lumineux apparaissent. Ils sont de plus en plus facilement déployables dans l'environnement urbain et connectables entre eux et au réseau. Pour notre Média Façade, nous utilisons des spots LED puissants à basse consommation, contrôlables en DMX: chaque fenêtre du bâtiment devient alors un pixel coloré.
En Octobre 2010, les 18 fenêtres de la façade entière ont été transformés pour la première fois en une matrice de 6x3 pixels lumineux le long du canal, et présentant des installations et animations par, entre autres: Antoine Schmitt (City Sleep Light), Stefaan Quix, Yannick Antoine, Vincent Evrard et Yves Bernard.
Pour Nuit Blanche 11, nous vous invitons à concevoir vos propres projets interactifs pour notre média façade!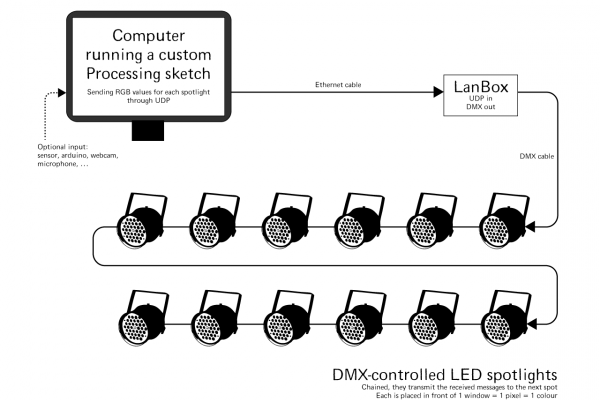 An archive : 1999-2010-2019
This page is an archive of the iMAL website that operated between 2010 and 2019. It compiles activities and projects made since 1999.
For our most recent news and activities, please check our new website at https://imal.org