Camps de Réfugiés
For more than 12 months spread from 1987 to 1994, John Vink, a belgian photograph member of Magnum, took pictures of refugees in camps all over the world. Wherever he was, he lived with the displaced people, in Africa, Central Europe, South America, Asia,...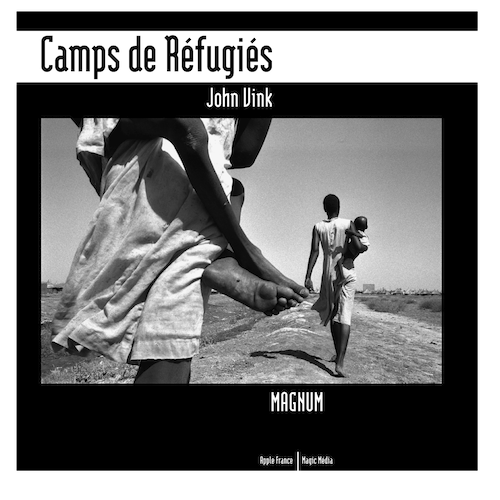 The cd-rom Camps de Réfugiés was published in 1994 by Apple France in French. It was one of the very first hypermedia essay in photojournalism proposing a rich multimedia experience made of:
more than 300 black&white photos
video interviews with Rony Brauman (president of Doctors without Borders/Médecins Sans Frontièrs) and John Vink
audio annotations of photos with John Vink's comments and wittnesses of members of MSF and of Handicap International (for a total of 40 minutes).
60 minutes of ethnic musics, maps & statistics,...
a smart user interface with various hypermedia navigation facilities allowing the user to easily browse along an infinity of paths and to define his own tours through the collection of photos.
Camps de Réfugiés was the first cd-rom designed, developed and produced by Magic Media, the new media studio Yves Bernard founded in Brussels beginning of the 90's. Started in 1990, it was first presented at Milia in Cannes in 1994 and published by Apple France in September 1994 with the support of the Centre National of Photography, Paris.
Camps de Réfugiés was exhibited in various venues. e.g. Centre Pompidou in the Revue Virtuelle exhibition series (special issue on Hypermedia) in November 1994. It attracted a lot of attention from the French and Belgian press with articles in Le Soir (06/10/1994, 19/11/1994), Le Monde (10/11/1994, 29/05/1996), Libération (03/03/1995), La Libre (01/08/1995), De Morgen (12/01/1995),...
Let quote Francis Mizio in Libération (03/03/1995) comparing 3 cd-roms on photography (I Photograph for Remember by Pedro Meyer, Une aventure chilienne by Jean Cassagne and Camps de Réfugiés):
For now now on, the best work in the genre is the cd-rom Camps de Réfugiés. With a very different approach, this cd published for a humanitarian cause is a dense database on the dramatic situation endured by 18 millions refugees through the world. It proposes 300 photos by Jonn Vink (Magnum) shot during more than 12 months from 1987 to 1994. Camps de Réfugiés is a wealthy mine of information and an accusing witness: interleaved video interviews, texts and data, book excerpts, numerous audio withnesses, ethnic musics, true questions (can we aestheticize the misery? asks John Vink), ethic precisions on some of the pictures, moving anecdotes and some sane humour in front of so much despair... And besides all that, this type of work is a demonstration of the cd-rom potential for B&W photography.
The cd-rom required a Mac with 6MB Ram and a 13" 256 colors screen. It was developed in Macromind Director 4.0.
Images Gallery
Format / Platform
CD-ROM
Mac
French
Author
John Vink & Yves Bernard
Producer
Magic Media
Publisher
Apple France, 1994
Credits
Photos and Texts: John Vink
Design, Realisation and Programming: Yves Bernard
Graphical Design: Pascal Courtois
Voices: Françoise Wallemacq, Jean-Pierre Jacqmin, John Vink
Xobj programming: Michel Rabozée
Packaging & Booklet design: François Bourgaux & Pascal Courtois
Apple France producer: Jean Robberecht