Loud Objects concert & workshop
Mardi, 16 Novembre 2010 | 18:00 - 21:00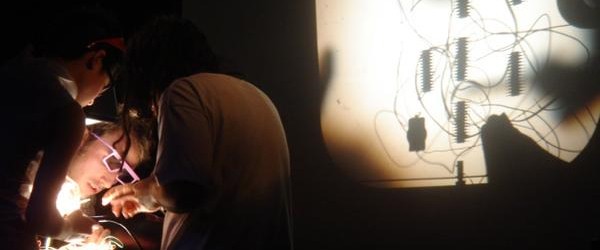 Bzzzzrrrriiiiiiiiiiiipiiihkhkhkhhhhhhhk!
moddr_ invite Loud Objects, les magiciens new-yorkais du circuit électronique, pour une soirée iMAL sous le signe du bidouillage et du bruit lo-fi.
Programme:
Mini-workshop Noise Toy

19:00 - 20:30
Apprenez à construire et souder votre propre générateur de son 1-bit, avec Tristant et Kunal de Loud Objects. Branchez vos écouteur et laissez-vous glitcher par le son de votre Noise Toy. Raccordez-le à un ampli utilisez-le comme instrument!
Maximum 15 participants, inscription recommandée.
Concert Loud Objects
21:00 - 22:00
Maniants leurs fer à souder au-dessus d'un rétro-projecteur, Tristan Perich, Kunal Gupta and Katie Shima assemblent des circuits électroniques musicaux. Les premières minutes sont marquées par le silence, alors que les éléments de base sont mis en place. Monte ensuite un son dense et explosif qui grandit à mesure que des puces électroniques sont ajoutées au circuit. Image émergeant des fumées de soudage, la rétro-projection dessine derrière ces musiciens des spectre garguantuesques qui, débarrassés de toute parenté avec les technologies antiques, révèlent l'esprit à la foi noble et macabre de l'opération.
À propos de Loud Objects
Diplomés de l'Université de Columbia, Kunal Gupta, Tristan Perich and Katie Shima jouent sous le nom de Loud Objects depuis 2005. Leurs concerts sont centrées sur le son généré par les micropuces programmées. Ils organisent également des workshop sur l'assemblage et la programmation de circuits sonores, ou organisent des classes-performances où ils expliquent chaques opérations en soudant leur circuit live. Le trio crée aussi des installations audio participatives, où le public est invité à modifier les circuits existant.
Infos Pratiques
Workshop: 19:00 - 20:30
Max. participants: 15.
Inscription: reservation@imal.org

Concert: 21:00-22:00
Gratuit!
Une archive : 1999-2010-2019
Cette page est une archive du site d'iMAL tel qu'il existait entre 2010 et 2019. Il documente activités et projets créés depuis 1999.
Pour notre actualité et nos activités plus récentes, veuillez vous rendre sur notre nouveau site https://imal.org