moddr_*
13 Novembre - 12 Décembre 2010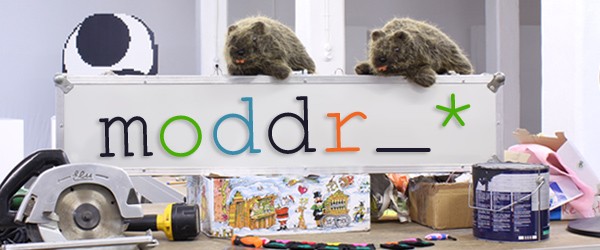 Une exposition et bien plus... par moddr_
À iMAL, nous sommes toujours fascinés de voir comment les artistes soulevent des questions artistiques et sociales sur notre monde contemporain en recyclant, modifiant et détournant les technologies d'aujourd'hui.
Dans cette perspective, nous invitons moddr_, un jeune collectif d'artistes-hackers de Rotterdam, pour une «carte blanche» où ils présentent une exposition de leurs derniers projets avec un programme associé de performances, conférences et ateliers typiques de leurs pratiques critiques et subversives des "nouveaux médias" et de la "culture digitale".
Affichant une forte critique envers notre société contemporaine, moddr_ et associés utilisent pour la plupart des méthodes empruntées au mouvement open source et des activistes du net, mais toujours avec style et humour.
Pour le programme d'ateliers et les autres activités, jetez un oeil à l'agenda d'iMAL, les événements seront ajoutés le long de l'exposition. Les premiers ateliers et performances auront lieu à l'ouverture de l'exposition le samedi 13 novembre. Voir ici le programme d'ouverture!
moddr_* exposition
L'exposition proposée par moddr_ diffuse des oeuvres issues et/ou liées au laboratoire d'une manière qui n'a pas été montrées auparavant.
Les projets de collaboration par les membres du laboratoire sont affichés à côté d'œuvres plus personnelles qui, souvent, les ont précédés, disséquant ainsi soigneusement la pratique et les considérations qui interviennent dans la réflexion sur les médias numériques d'aujourd'hui, les gadgets et les réseaux.
Web2.0 Suicide Machine (2009) – moddr_ collective
Mixed media installation, website


PlaySureVeillance (2008) – Gordan Savicic
Mixed Media Installation, Social Software Modification Patch


120 days of *buntu (2010) – Gordan Savicic and Danja Vasiliev
Mixed media installation, modified OS
Including :
Singularitybuntu [re:buntu] (2009)

Muslimbuntu [burkabuntu] (2010)

Punkbuntu [anarchybuntu] (2010)

m/e/m/e/2/0 (2008) – Danja Vasiliev
Mechanical website, single-user system




parabot (2010) – Walter Langelaar

psworld (2010) – Julian Oliver
Software


Psychogeophysics (2010) – Martin Howse & Jonathan Kemp

Noizo 801 (2009) - Matt Kemp

Soundbox One(2010) – Derek Holzer

§P¡NdLe (2010) – Philip Lammer

Bling_Blink! (2010) – Gordan Savicic & Philip Lammer

Floppy Films (2009) - Florian Cramer


Plus d'info sur moddr_
Infos Pratiques
Vernissage le samedi 13 novembre,
15:00 - 23:30
avec atelier et performances moddr_
voir le programme complet!

Finissage le dimanche 12 décembre
avec atelier, présentations et performances!

Exposition du 13 nov au 12 déc 2010 Ouvert mer > sam, 12:30 - 18:30
(Vendredi 03/12, ouverte exceptionnelle àpd 15:30)
Entrée libre!

Crédits
moddr_* est soutenu par la Foundation Mondriaan.

Une archive : 1999-2010-2019
Cette page est une archive du site d'iMAL tel qu'il existait entre 2010 et 2019. Il documente activités et projets créés depuis 1999.
Pour notre actualité et nos activités plus récentes, veuillez vous rendre sur notre nouveau site https://imal.org