Reclaim the web!
Samedi, 1 Décembre 2018 | 12:30 - 18:00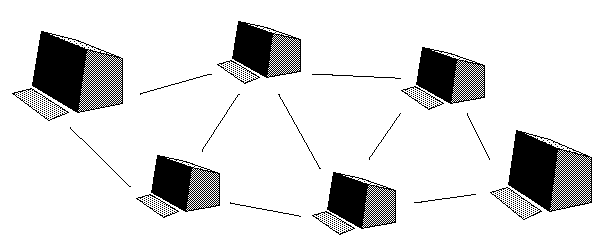 Découvrez et testez le web peer-to-peer
Aujourd'hui, une grande partie de notre vie (en ligne) dépend de plateformes et outils développés par une poignée d'entreprises Internet. Ces dernières années, de nombreux scandales et controverses ont révélé le déséquilibre des pouvoirs inhérent à ce système. Un "internet féodal"1 d'application centralisées autoritaristes2.
Cette prise de conscience conduit à un mécontentement croissant. Nous nous sentons impuissants3 face aux décisions éthiques, à la politique générale et au design de plateformes qui nous semblent incontournables.
Il est temps de se réapproprier notre vie numérique, et de réenchanter le web ! Non pas par un retour nostalgique à l'Internet d'autrefois, mais par des nouvelles propositions stimulantes pour un futur décentralisé et distribué !
Pendant Reclaim the web!, vous découvrirez le web peer-to-peer, une alternative au système actuel, qui permet à tout un chacun de partager des données, publier des sites et applications web à partir de son propre ordinateur, sans dépendre d'un serveur ou d'un service centralisé.
L'après-midi commencera avec une série de présentation par des artistes et développeurs qui, aujourd'hui, exploitent déjà ces nouvelles technologies. Afin d'explorer le sujet plus en profondeur, nous poursuivrons la journée avec des ateliers pratiques! Venez avec votre ordinateur portable si vous souhaitez en profiter au mieux!
Reclaim the web! est accessible à toutes et tous, sans expérience ou connaissances préalables !
Programme
13:00 - Ouverture des portes
13:30 - Introduction
13:35 - Présentations (en anglais)
Hunor Karamán
I'm a peer
About a more ambient web experience
Raphaël Bastide
Floating Swarm
Art in the interstices of networks at a time of fragile attentions
Zenna Fiscella
Scuttlebutt__A Revolutionising Communication Protocol
An introduction to the new P2P gossiping protocol
14:45 - Débat / Q&A (en anglais)
avec Hunor Karamán, Raphaël Bastide & Zenna Fiscella
15:30 - Workshops: experiment the P2P web with Beaker and Scuttlebutt!
with Hunor Karamán, Raphaël Bastide & Zenna Fiscella
Bring your laptop if you have one! More info soon!
19:00 - Fin
Plus d'infos sur nos 3 invités ici
Infos Pratiques
Lieu: Kop! (Smart/CoopCity)
Rue Coenraets, 72
1060 Bruxelles
(5 minutes à pied de l'arrêt tram/métro Porte de Hal)
Entrée gratuite!
Les présentations sont en anglais.
Crédits
En coopération et avec le soutien de SMart.
Merci à Louis Center pour son aide!
Une archive : 1999-2010-2019
Cette page est une archive du site d'iMAL tel qu'il existait entre 2010 et 2019. Il documente activités et projets créés depuis 1999.
Pour notre actualité et nos activités plus récentes, veuillez vous rendre sur notre nouveau site https://imal.org