Reclaim the web!
zaterdag, 1 december 2018 | 12:30 - 18:00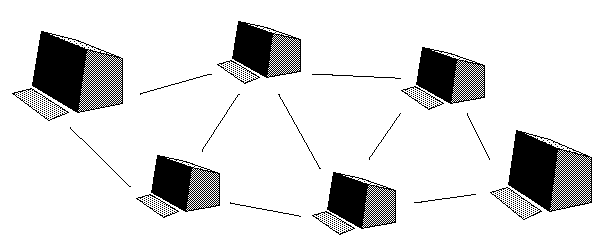 Ontdek en beleef het P2P web!
Vandaag de dag zijn we voor grote delen van ons (online) leven afhankelijk van platforms en tools, die ontwikkeld zijn door slechts een handvol internetbedrijven. De voorbije jaren hebben talrijke schandalen en controverses de aandacht gevestigd op de diepe machtsongelijkheid die inherent is aan dit model. Een "feodaal internet"1 van autoritaire gecentraliseerde toepassingen2.
Dit leidt tot een groeiende ontevredenheid. We voelen ons machteloos3 over de ethiek, het beleid en het ontwerp van platforms die onontkoombaar lijken.
Het is tijd om ons online leven terug te winnen en het web opnieuw te veroveren! Niet door een nostalgische terugkeer naar het internet van gisteren, maar met spannende nieuwe voorstellen voor een gedecentraliseerde en gedistribueerde toekomst.
Tijdens Reclaim the web! ontdekt u het P2P web, een alternatief voor ons huidige systeem, waar iedereen gegevens kan delen, websites en apps kan publiceren vanaf zijn eigen computer, zonder afhankelijk te zijn van een centrale server of dienst.
We starten de namiddag met een reeks presentaties van ontwikkelaars en kunstenaars die vandaag al werken met deze nieuwe technologieën. Daarna gaan we dieper in op het onderwerp in workshops! Bring your laptop if you want to get the most of it!
Iedereen is welkom op Reclaim the web! en voorafgaande ervaring of kennis is niet vereist.
Schedule
13:00 - Doors
13:30 - Introduction
13:35 - Talks
Hunor Karamán
I'm a peer
About a more ambient web experience
Raphaël Bastide
Floating Swarm
Art in the interstices of networks at a time of fragile attentions
Zenna Fiscella
Scuttlebutt__A Revolutionising Communication Protocol
An introduction to the new P2P gossiping protocol
14:45 - Debate / Q&A
with Hunor Karamán, Raphaël Bastide & Zenna Fiscella
15:30 - Workshops: experiment the P2P web with Beaker and Scuttlebutt!
with Hunor Karamán, Raphaël Bastide & Zenna Fiscella
Bring your laptop if you have one! More info soon!
19:00 - End
Read more about our 3 guests here
Praktische Info
Locatie: Kop! (Smart/CoopCity)
Coenraetsstraat, 72
1060 Brussel
(5 minuten lopen van de halte Hallepoort)

Free access!
Credits
In cooperation and with the support of SMart.
Thanks to Louis Center for his help.
Een archief : 1999-2010-2019
Deze pagina is een archief van de iMAL website zoals die tussen 2010 en 2019 bestond. Alle activiteiten en projecten die sinds het begin in 1999 door iMAL georganiseerd zijn zijn hier gearchiveerd.
Het meest recente nieuws en activiteiten kan je terug vinden op onze nieuwe website: imal.org