FabLab Team & Contact
Fablab.iMAL is managed collaboratively by:
Xavier Klein, co-fablab manager, mediation manager, graphic designer, illustrator and artist. FabAcademy graduate
Stefan Piat, artist and co-fablab manager, digital carpentry manager

Raphaël Olivier, co-fablab manager, draftman, 3d graphics designer.
Christopher Teixeira Mota, co-fablab manager, architect et urbanist.
Félix Luque, artist who develops technology-based artworks using digital fabrication.
Yves Bernard, iMAL director
E-mail: fablab AT imal.org
Twitter: @FabLabiMAL
Address
34 Quai des Charbonnages - Koolmijnenkaai, 1080 Brussels (metro: Comte de Flandre)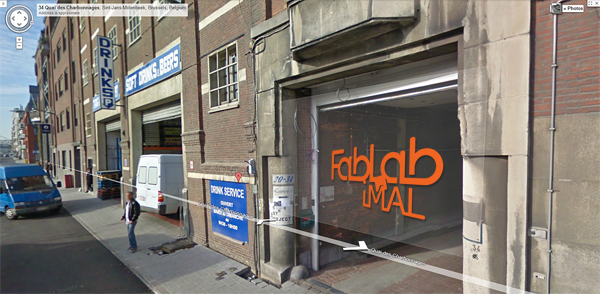 Entrance by the courtyard, FabLab.iMAL is on the first floor.
Een archief : 1999-2010-2019
Deze pagina is een archief van de iMAL website zoals die tussen 2010 en 2019 bestond. Alle activiteiten en projecten die sinds het begin in 1999 door iMAL georganiseerd zijn zijn hier gearchiveerd.
Het meest recente nieuws en activiteiten kan je terug vinden op onze nieuwe website: imal.org