DIRECT OUT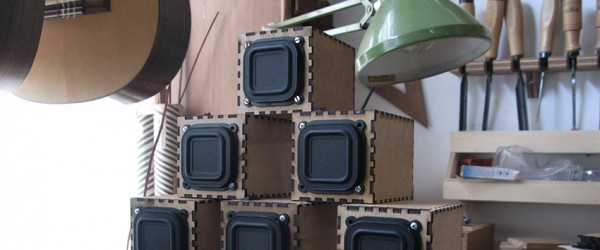 Residency by the sound artist Yann Leguay
Meteo and Espace Gantner associated to propose a original sound path into the city of Mulhouse. They invited Yann Leguay to work with them on how to feel the city differently across its sonority and resonance. In the frame of iMAL's residency, he is working with Guillaume Bernier as a technical head and produces "Direct Out", a series of small autonomous sound modules working as a sound graffiti, ready to be spread in the city of Mulhouse for Meteo Festival.
About the artist:
Brussels based sound artist Yann Leguay , defined as a media saboteur by the Consumer Waste label, he seeks to fold reality in on itself using basic means in the form of objects and videos or during installations and performances. His flagrant disregard for the accepted norms of audio behaviour appropriates industrial machinery for the playback of audio media: using an angle grinder to perform the live destruction of a microphone or using an hard drive as a turntable. His release activity is equally deviant, releasing a 7" single without a central hole and a record composed from recordings vinyl being scratched by scalpel. His Phonotopy label proposes a conceptual approach to recording media and he also curates the DRIFT series on the Artkillart label which overlays several grooves onto a single record, causing randomised playback.
An archive : 1999-2010-2019
This page is an archive of the iMAL website that operated between 2010 and 2019. It compiles activities and projects made since 1999.
For our most recent news and activities, please check our new website at https://imal.org