MOVIOLA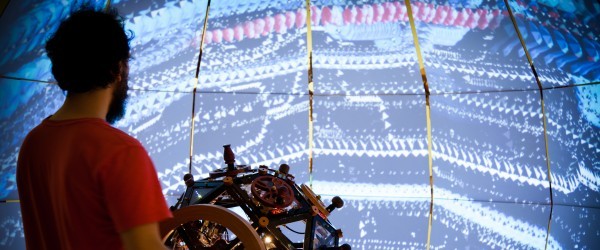 Résidence de Marcio Ambrosio
MOVIOLA est une installation interactive qui invite le public à un voyage immersif et poétique dans une série de mondes insolites, qui évoquent à la fois l'espace et les univers sous-marins.
MOVIOLA est constituée de deux parties, qui mêlent chacune analogique et numérique :
la Moviola, sorte de vaisseau qui permet de contrôler et de naviguer au sein de ces univers à l'aide d'un gouvernail et une séries de manivelles ;
le Dôme immersif, structure en forme de semi­-dôme, qui accueille la projection et plonge les spectateurs au cœur des environnements de l'installation.
En actionnant les manivelles, le public prends littéralement les commandes en main; chacune d'elles actionnant des paramètres des éléments 3D et sonores projetés en temps réel sur le dôme.
Le public compose donc son propre voyage, découvre l'univers et les créatures qui le peuplent. Il contrôle également l'esthétique audiovisuelle de chacun de ces mondes, les rendant uniques. Ce voyage peu devenir collectif, la sculpture accueillant plusieurs utilisateurs.
Comme la plupart des œuvres de Marcio, MOVIOLA fait références à l'histoire du cinéma et de l'animation, la Moviola étant historiquement une des premières tables de montage. On y retrouve également son intérêt pour la création d'un dispositif de monstration particulier, qui mêle technologies numériques et objets sculpturaux à l'esthétique rétro (entre Jules Verne, steampunk et art nouveau). Marcio crée ces objets à partir de bois locaux dans son atelier au Brésil, en utilisant des techniques de design paramétrique et de fabrication numérique.
Plus d'infos: marcioambrosio.com/MOVIOLA
MOVIOLA au PASS
Suite a un appel à projets, MOVIOLA a été sélectionnée comme une des cinq œuvres qui seront acquises par le PASS (Parc d'aventures scientifiques, Frameries, Belgique) et exposées pendant cinq ans dans leur nouvel espace, la Waouh Zone, inauguré le 31 mars 2017.
La résidence offerte par iMAL vise à permettre à Marcio Ambrosio et Yacine Sebti de préparer MOVIOLA pour son installation longue durée au PASS.
Plus d'infos: pass.be
Marcio Ambrosio
Marcio Ambrosio (1975, São Paulo, Brazil) graduated in industrial design, graphic design and animation. He has worked in different sectors: animation, advertising and post-production. Besides, he participated in several international workshops and festivals with his art work, such as FILE 2007 and 2008 (Brazil), Japan Media Arts Festival 2008 (Japan) and Transitio MX (Mexico). In 2004, he formed the collective zzzmutations to produce short animation films and develop experimental and interactive projects. In 2008, his project Oups! received the Grand Prize in the category "Art Division" at the Japan Media Arts Festival (Tokyo, Japan) and the Grand Prize Moving Image at Transitio MX (Mexico City, Mexico) in 2009.
Today, he continues working at the crossing of animation and participative installations with the constant input of new technologies, ranging from computer vision to interaction design with a hint of electronics, digital fabrication and video mapping.
'MOVIOLA' by Marcio Ambrosio
Credits
Creation and design : Marcio Ambrosio
Software development : Yacine Sebti
Sound creation : aAirial
Parametric architecture consulting : Victor Sardenberg , Elisa Vianna and Dum Dum Lab (Francisco Calvo and Katherine Caceres).
Special thanks : Sophie Klecker , Decio Ambrosio , Ricardo Piccin, Irani.
Photos & Video Shooting : Mario Ladeira
An archive : 1999-2010-2019
This page is an archive of the iMAL website that operated between 2010 and 2019. It compiles activities and projects made since 1999.
For our most recent news and activities, please check our new website at https://imal.org