WJ-Spots Brussels
zaterdag, 3 december 2011 | 14:00 - 22:30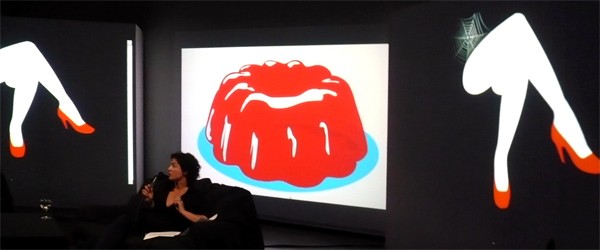 History and future of artistic creation on the Internet
Meer dan 15 jaar na het ontstaan van 'net art' is het internet vandaag een alomtegenwoordig, globaal en participatief medium. Het is een immens territorium dat zich beweegt tussen normalisatie, handel, hoop en utopie. Is het internet een plaats vol desillusies voor kunstenaars en creatieven of is er toch een toekomst voor kunst en creatieve en kritische acties op het web? Indien wel, wat zijn dan de mogelijke vormen en richtingen?
An immersive performance of live websurfing and speeches
The format of this event will be far away from a usual conference: during the speeches, webjays using the WJ-Spots platform will be surfing live through a list of representative websites selected by the speaker. A multi-screen system is used to display those pages around the audience.
The proceedings of the WJ-Spots Brussels event will be published in early 2012 as a special edition of the MCD magazine, and as video documents made available on the Digitalarti and iMAL websites.
With*: Raphaël Bastide & Yannick Antoine (FR/BE, artists), Michel Bauwens (BE, p2p2foundation), Josephine Bosma (NL, journalist and critic), Heath Bunting (UK, artist), Paolo Cirio (IT, artist), Florian Cramer (NL, Professor at Piet Zwart Institute), Régine Debatty (BE, we-make-money-not-art, blogger and critic), Constant Dullaart (NL, artist), Jodi (BE/NL, artists), Olia Lialina (RU/DE, artist), Alessandro Ludovico (IT, neural.it), Nicolas Malevé (BE, Constantvzw), Miltos Manetas (GR, artist), Julian Oliver (NZ/DE, artist), Domenico Quaranta (IT, contemporary art critic and curator), Rafael Rozendaal (NL, artist), Sakrowski (DE, curatingYouTube), Gordan Savičić (AT, artist).
(*some by skype)
Registration closed

Praktische Info
Eerst sessie: 15:00 - 18:00
Dweede sessie: 20:00 - 23:00
Vrije toegang!
Registration closed
Bar geopend en hapjes door Picnik.
Locatie: iMAL
Ook uitgezonden op iMALtv
Een archief : 1999-2010-2019
Deze pagina is een archief van de iMAL website zoals die tussen 2010 en 2019 bestond. Alle activiteiten en projecten die sinds het begin in 1999 door iMAL georganiseerd zijn zijn hier gearchiveerd.
Het meest recente nieuws en activiteiten kan je terug vinden op onze nieuwe website: imal.org