Simple Thoughts - Peter Beyls
13 Novembre - 14 Décembre 2014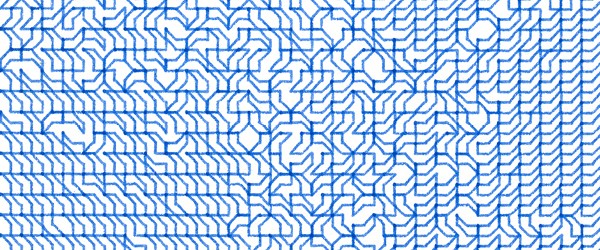 Exposition rétrospective : 40 ans d'art par ordinateur
Peter Beyls est un artiste pluridisciplinaire belge, pionnier des arts numériques depuis près de 40 ans. Sa pratique se décline dans le domaine des arts visuels, de la musique et d'autre formats hybrides expérimentaux.
À l'occasion de la publication d'une monographie chez MER Paperkunsthalle, iMAL organise une grande exposition rétrospective rassemblant une sélection d'œuvres de 1974 à nos jours.
Ses premières expériences – généralement des structures en grille - se concentraient principalement sur le principe d'incertitude et l'aléatoire conditionnel. Toujours avec des systèmes de grille, il emploiera ensuite les cellular automata (automates cellulaires), ces machines virtuelles qui, sur base de mécaniques de base extrêmement simples, génèrent des structures complexes. Inspiré des écrits de Chomsky, plusieurs de ses travaux exploreront des principes de linguistique.
L'abstraction générative laissera progressivement la place à la notion d'intelligence créative, soit la délégation à la machine de certains aspects de la créativité humaine. Cette approche est basée sur des principes développés dans le champs de l'intelligence artificielle.
À la fin des années 80 s'enclenche une transition majeure, un basculement conceptuel de systèmes à base de connaissance (knowledge-based systems) vers des systèmes auto-organisés. Cette dernière approche est spéculative; des composants simples interagissent localement pour donner lieu à une complexité globale émergente. L'apparition de ces structures complexes étant capturée dans une suite de plusieurs dessins, la notion de temps y est implicite.
L'exposition fournit un aperçu des différents paradigmes informatiques mis en œuvre par l'artiste, avec de nombreux dessins réalisés par la machine programmée, des impressions photographiques ainsi que les toutes dernières créations de l'artiste exposées pour la première fois: des dessins exécutés par des petits bras robotiques créés en 2014. Quatre installations audiovisuelles (dont deux interactives) joueront le rôle d'interface dynamique entre les visiteurs, le monde virtuel de l'ordinateur ou les données d'Internet.
Cette exposition est organisée dans le contexte de la publication d'une monographie publiée par MER (www.merpaperkunsthalle.org). qui documente l'œuvre foisonnant de l'artiste. Six experts internationaux (Sahra Kunz, Frieder Nake, Luc Steels, Helena De Preester, Grant Taylor and Joel Chadabe) ont chacun contribué à un chapitre, participant ainsi à l'élaboration d'un cadre de réflexions critiques issues de leur approche intellectuelle respective.
La Monographie (in English) est en vente à iMAL pendant toute la durée de l'exposition.

Programme
12 Novembre, 19:00 | Présentation de la monographie


Au KASK, Louis Pasteurlaan 2, 9000 Gent
Plus d'info: kask.be

13 Novembre, 18:30 | Vernissage Simple Thoughts
Introduction par Christophe De Jaeger (Bozar)

14 Novembre - 14 Decembre | Exposition Simple Thoughts


Mercredi au dimanche, 13:00 - 18:00

26 Novembre, 20:00 | Arts/Sciences#16 : Peter Beyls

Presentation/Conférence
A propos de Peter Beyls
Après des études d'ingénieur en électronique, Peter Beyls a étudié au Conservatoire Royal de Bruxelles, à l'EMS Stockholm, et à la Slade School of Art, University College London.
Peter Beyls a exploré intensément les dimensions esthétiques et cognitives du numérique dans les arts. Il a tout au long de sa carrière scientifique publié plus de 75 articles sur les spécificités des arts numériques et a été professeur invité de nombreuses universités au Canada, en Chine, au Japan et aux USA.
Son travail a été montré dans de nombreux festivals internationaux tels que Siggraph, ICMC, Imagina, ISCM, Generative Arts et ISEA. Il est actuellement Professeur au Centre for Research in Science and Technology for the Arts (CITAR), Universidade Católica Portuguese, Porto et Professeur invité au KASK, Ecole des Beaux-Arts de Gand (University College Ghent).
Infos Pratiques
14 Novembre - 14 Decembre
Vernissage: 13 Novembre, 18:30 - 22:00
Introduction par Christophe De Jaeger (Bozar)
Facebook event
Heures d'ouverture
Mer-Dim, 13:00 - 18:00
Arts/Sciences#16 : Peter Beyls
26 Novembre, 20:00 – 22:00
Présentation de la monographie
12 Novembre, 19:00
At KASK, Louis Pasteurlaan 2, 9000 Gent
Plus d'info: kask.be
Facebook event
Free entrance! Entrée gratuite! Gratis toegang!
La monografie Simple Thoughts (English) sera en vente à iMAL pendant l'exposition (39 €)