Simple Thoughts - Peter Beyls
12 November - 13 December 2014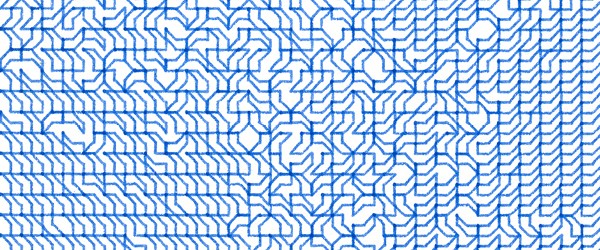 Retrospective exhibition: 40 years of computer art
Peter Beyls is a Belgian pioneering interdisciplinary artist who has been exploring computer programming for nearly four decades. His work extends into the visual arts, music and hybrid experimental formats.

In light of the publication of a monograph by MER Paperkunsthalle, iMAL organises the first major survey exhibition of Peter Beyls in Belgium featuring a significant selection of works from 1974 until today.
A comprehensive selection of machine drawings is shown reflecting the wide range of algorithmic approaches explored by the artist. Initial experiments focus on uncertainty and conditional randomness, typically organised as grid structures. Further grid-based work employs cellular automata; a kind of virtual machines growing complexity from simple beginnings. Inspired on Chomsky's writings, much work explores linguistic principles. At some point, abstract generative thinking gave way to the notion on 'creative intelligence' – the delegation of aspects of human creativity to machines. This work is based on principles of the discipline of artificial intelligence.
A major transition gradually evolved starting in the late 1980's; a conceptual swing from knowledge-based systems to self-organisation. The latter approach is characterized as speculative, simple components interact locally to give rise to emergent overall complexity. Since the genesis of intricate structures is captured in a series of drawings, the notion of time is implicit.
The exhibition will thus provide an overview of the various computational paradigms implemented by the artist. In addition, a wide range of media and presentation formats are employed such as over 70 machine drawings and unique photographic prints. Four audiovisual installations provide a dynamic interface between the onlooker and the virtual world inside the computer or the data of Internet. Robot drawings produced in 2014 will receive their first public presentation.
The show is organised in the context of a monograph documenting the artist's extended oeuvre, published by MER (www.merpaperkunsthalle.org). Six international scholars (Sahra Kunz, Frieder Nake, Luc Steels, Helena De Preester, Grant Taylor and Joel Chadabe) contributed a chapter, aiming to create a critical framework from their respective, private intellectual perspective.
The Monograph (English) will be on sales at iMAL during the whole exhibition.

Programme
12 November, 19:00 | Book presentation


At KASK, Louis Pasteurlaan 2, 9000 Gent
More info: kask.be

13 November, 18:30 | Simple Thoughts Vernissage
with introduction by Christophe De Jaeger (Bozar)

14 November - 14 December | Simple Thoughts Exhibition

Wednesday to Sunday, 13:00 - 18:00

26 November, 20:00 | Arts/Sciences#16 : Peter Beyls

Lecture/Presentation
About Peter Beyls
After completing initial studies in electronic engineering, Peter Beyls studied at the Brussels Royal Music Conservatory, EMS Stockholm and the Slade School of Art, University Colelge London. He was awarded a PhD in Computer Science from the University of Plymouth, UK for his research in evolutionary computing applied to real-time interactive music systems.
Beyls is deeply interested in the aesthetic and cognitive dimensions of digital media in the arts. In the scientific realm, he published some 75 papers on distinctive aspects of digital art and was a visiting professor at various institutions in Canada, China, Japan and the USA.
His work was widely exhibited and performed at events like Siggraph, ICMC, Imagina, ISCM, Generative Arts and ISEA. He is currently research professor at the Centre for Research in Science and Technology for the Arts (CITAR), Universidade Católica Portuguese, Porto and visiting professor of Media Art at the School of Arts, University College Ghent.
Practical Info
14 November - 14 December
Opening: 13 November, 18:30 - 22:00
Introduction by Christophe De Jaeger (Bozar)
Facebook event
Opening hours
Wed-Sun, 13:00 - 18:00
Arts/Sciences#16 : Peter Beyls
26 November, 20:00 – 22:00
Book presentation
12 November, 19:00
At KASK, Louis Pasteurlaan 2, 9000 Gent
More info: kask.be
Facebook event
The Simple Thoughts monographe is for sale at iMAL (39 €)
Free entrance! Entrée gratuite! Gratis toegang!
An archive : 1999-2010-2019
This page is an archive of the iMAL website that operated between 2010 and 2019. It compiles activities and projects made since 1999.
For our most recent news and activities, please check our new website at https://imal.org