warning: unlink(/tmp/19198.XML_API___MODSEC_PREVIEW_VENDOR__.0a9bd528.tmp.cache): Operation not permitted in /home2/imalorg/legacy.imal.org/drupal/sites/all/modules/flickrapi/phpFlickr/phpFlickr.php on line 115.
I AM LOOKING AT A ROOM
25 Juin - 4 Septembre 2015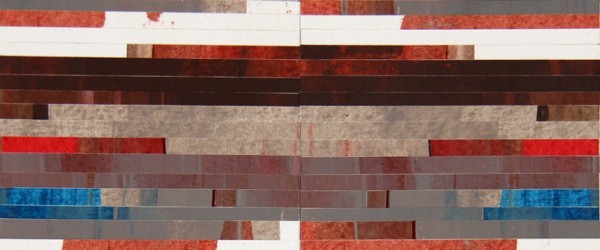 TRIPOT & Laurent Trezegnies
"I AM LOOKING AT A ROOM" est le résultat d'une collaboration entre le collectif audiovisuel TRIPOT (Marius Packbier et Aïlien Reyns) et l'artiste plasticien Laurent Trezegnies.
Son point de départ est une vidéo dépouillée de sa fonction représentative par la réorganisation de la structure des pixels. Le patron structurel des pixels se change en une masse de composantes qui ne sont pas en état de communiquer une signification lisible ou de représenter quelque chose en dehors d'elles-mêmes. Les innombrables pixels, clairement identifiables, forment une image abstraite et en même temps expressive, ce qui génère une expérience physique riche pour le spectateur.
La composition abstraite est associée à la réalité, par le truchement d'un voice-over. Sur base d'une restitution équivoque, le spectateur doit construire une signification subjective propre.
Laurent Trezegnies crée l'installation plastique en interaction avec l'espace d'exposition et l'image vidéo. C'est une matérialisation d'un concept, plus concret et plus éphémère que sa forme audiovisuelle.
À propos de TRIPOT
TRIPOT is a Brussels based audiovisual art collective founded by Aïlien Reyns, Marius Packbier and Martina Melilli that explores the intersections between art, academic research and social practice.
Marius Packbier (°1982 de) is active in the fields of installation and media art. He explores through video, matters relating to perception, represantation and the relationship between artist, medium and audience.
Aïlien Reyns (°1984 be) is an audiovisual artist who researches the interrelationship between migration, home/intimate space and (digital) communication media.
À propos de Laurent Trezegnies
Laurent Trezegnies (°1988 be) lives and works in Brussels. He graduated from MA in Fine Arts in 2012, at the Académie des Beaux-Arts de Liège. He is currently working on different artistic projects in relation to the public space.
Infos Pratiques
Vernissage jeudi 25/06, 18h00-20h00
Ouvert mardi-vendredi, 12h30-18h00
+ sur rendez-vous
Entrée-gratuite!
Lieu: iMAL
Vernissage jeudi 25/06, 18h00-20h00
Ouvert mardi-vendredi, 12h30-18h00
+ sur rendez-vous
Entrée-gratuite!
Lieu: iMAL
Une archive : 1999-2010-2019
Cette page est une archive du site d'iMAL tel qu'il existait entre 2010 et 2019. Il documente activités et projets créés depuis 1999.
Pour notre actualité et nos activités plus récentes, veuillez vous rendre sur notre nouveau site https://imal.org