I AM LOOKING AT A ROOM
25 June - 4 September 2015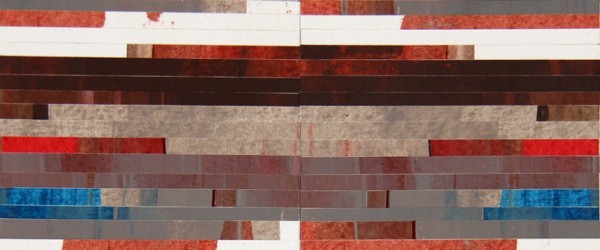 TRIPOT & Laurent Trezegnies
"I AM LOOKING AT A ROOM" is the result of a collaboration between the audiovisual collective TRIPOT (Marius Packbier & Aïlien Reyns) and the visual artist Laurent Trezegnies.
The work departs from a video that is deprived from its representative function through changes in the pixel structure. The organizational pattern of the original video transforms into an an incommunicative mass of distinct elements that is unable to convey something beyond itself.
The abstract composition is connected to reality through the voice-over. Based on an ambiguous oral description, the spectator has to create his own subjective meaning.
Laurent Trezegnies creates the sculptural installation in response to the exhibition space and audiovisual works. It is a sculptural materialization of the concept, at the same time more concrete and ephemeral then it's audiovisual form.
About TRIPOT
TRIPOT is a Brussels based audiovisual art collective founded by Aïlien Reyns, Marius Packbier and Martina Melilli that explores the intersections between art, academic research and social practice.
Marius Packbier (°1982 de) is active in the fields of installation and media art. He explores through video, matters relating to perception, represantation and the relationship between artist, medium and audience.
Aïlien Reyns (°1984 be) is an audiovisual artist who researches the interrelationship between migration, home/intimate space and (digital) communication media.
About Laurent Trezegnies
Laurent Trezegnies (°1988 be) lives and works in Brussels. He graduated from MA in Fine Arts in 2012, at the Académie des Beaux-Arts de Liège. He is currently working on different artistic projects in relation to the public space.
Practical Info
Opening Thursday 25/06, 18:00-20:00
Open Tuesday-Friday, 12:30-18:00
+ on appointment
Free entrance!
Place: iMAL
Opening Thursday 25/06, 18:00-20:00
Open Tuesday-Friday, 12:30-18:00
+ on appointment
Free entrance!
Place: iMAL
An archive : 1999-2010-2019
This page is an archive of the iMAL website that operated between 2010 and 2019. It compiles activities and projects made since 1999.
For our most recent news and activities, please check our new website at https://imal.org