Aphrogenea
8 February - 24 February 2011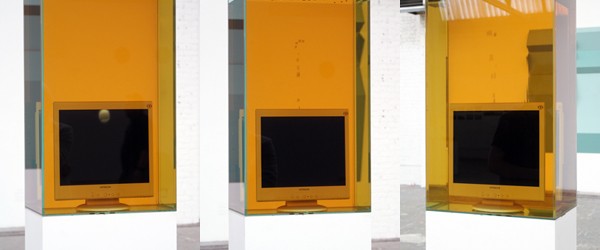 An installation by Vincent Evrard (BE)
For this second "Showcase", iMAL invites Vincent Evrard to present Aphrogenea, an installation that plunges a computer into a bath of sterile oil. Kept "alive" by this unusual biotope, breathing bubbles are surprisingly rising to the surface.
Aphrogenea is born from Vincent's thesis Fixer les nuages which proposes a genealogy of clouds leading to the advent of the Internet. It was first shown at the master degree show at Erg (École de Recherche Graphique), Brussels, june 2010.
The sea of oil, sterile and without movement fills a space,
Solid or liquid, it doesn't matter, non-living substance has no grip over itself.
Impassive, an object, endlessly watched, shouldn't be there,
Static, it has all the attributes of death but everything will change,
Ordinarily its action is invisible. Here it will reveal himself.
The generative power of this relationship is certain,
Substances mingle, foam emerges.
The installation is composed of a wooden base, a glass box filled with a transparent liquid and a computer. The liquid is a dielectric mineral oil whose main property is to be an excellent electrical insulating. The computer screen is immersed into this oil. A digital bubble is displayed, it grows and reaches the side of the screen, then it turns into a real bubble going up to the oil surface.
The application was developped with Processing and Arduino by Vincent Evrard. Click to download the code.
Practical Info
Aphrogenea is exhibited from
Tue > Fri, 14:00-18:00
and during other public events.
Free entrance.
An archive : 1999-2010-2019
This page is an archive of the iMAL website that operated between 2010 and 2019. It compiles activities and projects made since 1999.
For our most recent news and activities, please check our new website at https://imal.org