Lucille Calmel & Gaëtan Rusquet: Based on an almost true story. (S01)
5 January - 18 January 2014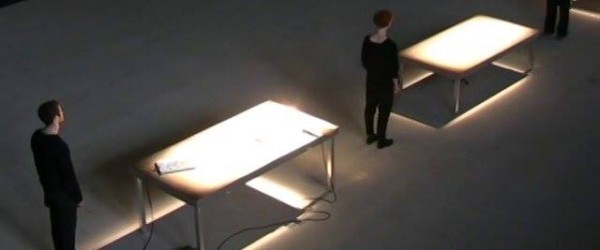 Research residency
Following the creation of Based on an almost true story. (S01) for the European performance festival Trouble in the Halles de Schaerbeek (Brussels) in April 2013, Lucille Calmel and Gaëtan Rusquet started the second season of their project during a research residency at iMAL.
This new version is about : laser, burning, paper, play station mentality, writing, shadow / latency, drone, decoy, delay, laptop, bell, telecommuting, bomb, micro, pattern, place, drift, wealth, aerobics, hunting, fault, sequin, temporary micro-cube of lethal exception = kill box, brand, bumblebee, Tuesday, crouching, no body bags ...
The artists will come back at iMAL in the month of June 2014 to deepen their research and experiment new possibilities of creation thanks to digital fabrication technologies at the FabLab.iMAL and the launching of new kind of drones.
About Lucille Calmel
Lucille Calmel pratique la performance depuis 1990. Chercheuse d'écritures vivantes de la scène de théâtre à cette nouvelle scène de l'Internet, elle explore les dimensions performatives entre corporalités, sonorités et textualités.
Après cinq ans au sein du collectif de performeures Les Trifides qu'elle initie, elle dirige avec Mathias Beyler de 1995 à 2005 la compagnie de théâtre myrtilles et .lacooperative, un lieu de recherche et d'expérimentation artistique axé sur les technologies actuelles et les indisciplines à Montpellier. Lors de son arrivée à Paris en 2004 et à Bruxelles en 2005, elle crée des performances en chair &/ou en ligne, impulse des événements impliquant textualités & musiques expérimentales et des recherches irl & web.
Elle entame 2013 par une recherche pour un dispositif transtextuel au sein de la création de Cas_1 du NUCollectif, performe based on an almost true story. S01 au festival européen de performance Trouble aux Halles de Schaerbeek à Bruxelles avec Gaëtan Rusquet, closed session un duo de laptops en extérieur acoustique avec Charlotte Benedettini au HS63, au Centre Pompidou pour le projet reading club d'Annie Abrahams et Emmanuel Guez au sein du festival Chercher le texte, Wojnarowicz remix au festival Jerk off à Paris, Cruising for Art de Brian Lobel lors de Nuit Blanche à recyclart et aux Brigittines pour Isabelle Bats, est exposée on the corner of Bowery & Kenmare à NYC et sur Cupcake.spamm.fr, est publiée dans les revues Le Carnet et les instants, Maintenant 7 des éditions américaines Three Rooms Press, le blog bela de la Maison des auteurs /sacd /scam, textopoly.org, s'essaie au mode conférence au sujet de l'archéologie du lolcat...
Elle est Professeur d'Enseignement Artistique (Performance et Arts de la scène) à l'École Supérieure d'Art d'Avignon depuis octobre 2013.
About Gaëtan Rusquet
À travers ses propositions scéniques, installations et performances, Gaëtan Rusquet se questionne sur le corps, le parcours, le passage, ses traces, entre présence et absence, de la peau à l'architecture. Ce qui l'amène à travailler à partir de son expérience sur l'intime et le public, avec le corps comme vecteur et matière en transformation. Il a eu l'occasion de montrer son travail sur les scènes belges : festival Trouble aux Halles de Schaerbeek, Théâtre Les Tanneurs avec auborddugouffre d'après David Wojnarowicz auprès de Lucille Calmel, théâtre de la Balsamine, Maison du spectacle la Bellone, Médiatine, Maison folie de Mons avec le festival «Un pas de trop» et les Laboréales. Et dans différents lieux et festivals européens : Antifestival de Kuopio en Finlande, Accionmad à Madrid, Interackje à Piotrkow trybunalski en Pologne, Grùtli à Genève.
En ligne, il performe pour Angry men d'Annie Abrahams, et in bed with everybody pour Le Lavoir Moderne à Lyon. Il participe à des laboratoires de recherche : terrain de jeu scène & web avec des filles, agence de rencontres irl & web l'agence*, avec Christian Rizzo autour de la figure du train fantôme au Fresnoy à Tourcoing, au Phénix à Valenciennes et à la Maison Folie de Mons.
Aussi, ses visuels ont été publiés dans la revue Scènes pour une réinterprétation de "Rimbaud séries" de D.Wojnarowicz sur chatroulette. La vidéo de sa performance "Va-et-vient" est éditée dans la collection DVD liveartwork #013.
Il commence un programme de résidence avec Workingtitle Brussels au Kaaistudio et aux Brigittines pour un nouveau projet de performance Our Ruins.
An archive : 1999-2010-2019
This page is an archive of the iMAL website that operated between 2010 and 2019. It compiles activities and projects made since 1999.
For our most recent news and activities, please check our new website at https://imal.org