In Search of Infinite Jest (Le réseau visuel d'Infinite Jest)
5 December - 9 December 2016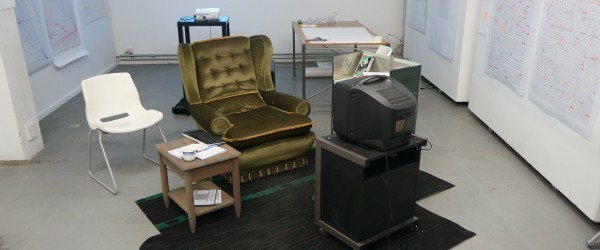 Residency by Sandrine Morgante & Martin Pirson
Il s'agit d'une visualisation numérique du roman Infinite Jest (David Foster Wallace, 1996, USA, 1000 pages). C'est une transposition de la totalité du texte en une suite d'images issues du web, chaque mot étant introduit comme mot clé pour une recherche Google.
La première image qui sort est conservée dans une base de donnée réutilisée chaque fois que ce même mot apparait. Le rythme du défilement des images suit le rythme de lecture qui s'appuie sur la mesure des syllabes.
Ce roman au style encyclopédique, répétitif, hétérogène et trivial trouve un échos idéal dans ce que représentent les pratiques textuelles du web.
Cette visualisation veut donner un aperçu du contenu tout en produisant de nouveaux sens. En effet, l'image qu'on obtient n'est pas toujours en adéquation avec le sens donné par le contexte du roman. C'est donc un moyen de réactualiser un texte au travers des préoccupations dominantes sur le web à ce moment là, à cet endroit là.
Nous avons choisis de proposer cette visualisation sous forme d'une installation au look vintage : un salon modeste avec TV situé dans les années 90. Cela évoque l'époque du roman et son intrigue principale : la circulation d'une VSH contenant un film interdit pour risque d'en mourir de rire.
Si nous proposons d'accéder au web en introduisant une cassette dans un magnéto, c'est aussi pour créer un décalage de médias : la TV et les cassettes VHS sont un autre et même mode solitaire de connexion au monde.
Concept: Sandrine Morgante
Developer: Martin Pirson
Production: Sandrine Morgante / Commission des Arts numériques Fédération Wallonie-Bruxelles
An archive : 1999-2010-2019
This page is an archive of the iMAL website that operated between 2010 and 2019. It compiles activities and projects made since 1999.
For our most recent news and activities, please check our new website at https://imal.org