warning: unlink(/tmp/19198.XML_API___MODSEC_PREVIEW_VENDOR__.0a9bd528.tmp.cache): Operation not permitted in /home2/imalorg/legacy.imal.org/drupal/sites/all/modules/flickrapi/phpFlickr/phpFlickr.php on line 115.
Semaine du Son: Eolinks Harps
22 January - 25 January 2013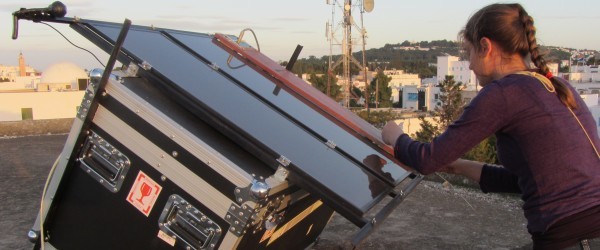 Sound installation by Olivier Meunier and Stéphanie Laforce
"A non narrative music that focusses on our perception of the space in function of the sound and that doesn't require a "listening" in the traditional sense. A process of "setting the sound into space", with the will to create an atmosphere, a soundscape that come insuperposition to the actual sounds of the place... " Translation of Robin Minard's article "La musique environnementale"
The project Eolinks Harps consist in a small ensemble of electric windharps installed on roofs of the city, each as an autonomous emitter that permit to listen to the wind's music in real time. The sound produced by this instrumentarium is send by wifi on a mesh network, and retransmitted in the listening place by a specially designed sculptural reception system.
For the Festival "La Semaine du Son", an emitter is placed on the roof, composed by an electric wind harp and a wifi emitter, powered by solar panels. In the exhibition room, a mixer box with a screen displaying the panorama on the roof through a webcam, and cylindricalwood speaker diffuse the sound of the wind in the space. A Bendhir is sonorised and used as a bass speaker. This traditional instrument from the Maghreb is transposed here in a surprising sound object. The mixer box records the sound when the wind blows and replays it when calm arise for a continuous stream.
The Sound of the Wind: electroacoustic concert
Wednesday 23 January: 20:00-22:00
Stéphanie Laforce - Multimedia artist, compositor of electroacoustic music
Laurence Renson - Mezzo-soprano
30 seats
Reservations required: info@lasemaineduson.be
An intimist concert in proposed inside of the acousmonium specially built for the installation Eolinks Harps. The sound of the wind captured on the roof of the building is the principal element as well as other records made in different places with the eolian harps (Brussels, Wéris, Ostende, Tunis, Brasparts...). This instrument can be considered as one of the most ancien automatic instrument.
An environmental music, dictated by the wind, punctuated by song interventions, accompanied by a live play on invented and poetic instruments. Sound turbulences, clear or crowded skies, electroacoustic and polyphonic air holes are part of the trip. A musical moment near a state of weightlessness...
Practical Info
Vernissage: Tuesday 22 January
17:30-19:30
Opening hours:
Tuesday 22 January - Friday 25 January
14:00 - 18:00
Free entrance!
Electroacoustic concert:
Wednesday 23 January: 20:00-22:00
Max. 30 participants
Reservation: info@lasemaineduson.be

Location: iMAL
30 Quai des Charbonnages - Koolmijnenkaai
1080 Brussels, BE
An archive : 1999-2010-2019
This page is an archive of the iMAL website that operated between 2010 and 2019. It compiles activities and projects made since 1999.
For our most recent news and activities, please check our new website at https://imal.org