WJ-Spots Brussels
Saturday, 3 December 2011 | 14:00 - 22:30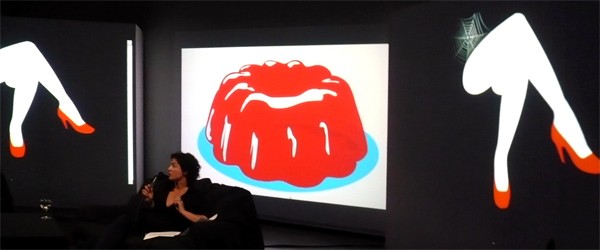 WJ-Spots participants
Alessandro Ludovico (IT), journalist & critic, http://www.neural.it
Alessandro Ludovico is an artist, media critic and editor in chief of Neural magazine since 1993. He has published and edited several books, and has lectured worldwide. He's one of the founders of Mag.Net (Electronic Cultural Publishers organization). He also served as an advisor for the Documenta 12's Magazine Project. He has been guest researcher at the Willem De Kooning Academy in Rotterdam and he teaches at the Academy of Art in Carrara. He is one of the authors of the Hacking Monopolism trilogy of artworks (Google WIll Eat Itself, Amazon Noir, Face to Facebook).
Constant Dullaart (*1979) studied at the Rijksakademie in Amsterdam and lives and works in Amsterdam and Berlin. Originally trained as a video artist, he nowadays works mainly with the Internet as an alternative presentation space. By editing online forms of presentations and by re-contextualising 'found' material he creates a new, found (online) exhibition space with networked performances, digital prints, YouTube videos, domain names and blog postings. His work has been shown internationally at venues such as the MassMoca, the New Museum, Art in General and the MWNM Gallery in New York, the ICA in London, NIMk, de Appel, W139, the Stedelijk Museum, the Ellen de Bruijne Projects and Galerie West in the Netherlands.
Domenico Quaranta is an art critic and curator. His previous publications include Gamescenes. Art in the Age of Videogames (2006, co-edited with Matteo Bittanti) and Media, New Media, Postmedia (2010). He curated various shows, including Holy Fire. Art of the Digital Age (2008, with Yves Bernard) and Playlist. Playing Games, Music, Art (2009 - 2010). He is the founding Director of the MINI Museum of XXI Century Arts and a co-founder of the Link Center for the Arts of the Information Age.
Florian Cramer, born 1969, studied and taught Comparative Literature, critical writer on arts, media, computing and politics since the second half of the 1990s, course director of the Networked Media Master programme at Piet Zwart Institute, Rotterdam, 2006-2010, director of the applied research center Creating 010 at Hogeschool Rotterdam.
Gordan Savičić is fascinated by new issues of our contemporary existence caused by the effects of new media
on subjectivity and its deep social implications. He is interested in imposing and applying the assumed (computed) reality within different realms to discuss its potential future and exploit. Main research areas around his projects include game cultures, digital and urban interventions, architecture, pervasive computing as well as open source technologies. His participation in collaborative projects and performances have been shown in several countries and received various awards, such as Japan (dis-locate), Germany (Transmediale), Austria (Ars electronica) and Spain (Arco), among others. Savičić has been teaching new media art practices at various schools and universities in the Netherlands (Piet Zwart Institute, Geert Rietveld Academy), Israel (Digital Art Lab Holon), Indonesia (University Surubaya) and in Austria (University of applied arts Vienna), among others.
Heath Bunting is a co-founder of both net.art and sport-art movements and is banned for life from entering the USA for his anti genetic work. His self taught and authentically independent work is direct and uncomplicated and has never been awarded a prize. He is both Britain's most important practising artist and The World's most famous computer artist. He aspires to be a skillful member of the public and is producing an expert system for identity mutation.
Jodi's work (www.jodi.org), the pioneer belgian/dutch duo of Net Art (Joan Heemskerke/NL - Dirk Paesmans/ BE), has been included in many international exhibitions and festivals: Documenta X in 1997, Rotterdam (DEAF98), ZKM (net_condition, 2000), Tokyo (2001, 2002), Madrid (Arco/De-game, 2001), Berlin (Transmediale: 1997, 2000, 2002, 2006), New York (1997, 2003, Guggenheim/2004, 2005, 2007), Chicago (ISEA97), Plug-In (Basle, 2002), Paris (Centre Pompidou/2003, 2004, 2006), SFMOMA (San Francisco, 2004), Montevideo (Amsterdam, 2006), or more recently at the Stedelijk Museum (Amsterdam) in the 'Deep Screen - Art in Digital Culture Proposal for Municipal Art Acquisitions 2008'.
Josephine Bosma is a journalist and critic who lives and works in Amsterdam, the Netherlands. She focusses on art in the context of the Internet since 1993. While initially making radio shows and reports, her writing on net art and net culture has appeared in numerous magazines, books and catalogues, both on- and offline, since 1996. She co-edited the Nettime book README (Autonomedia 1999), the Next5Minutes3 workbook (N5M organization 1999) and briefly edited the online newsletter CREAM.
Julian Oliver is a New Zealander, Critical Engineer and artist based in Berlin. His projects and the occasional paper have been presented at many museums, international electronic-art events and conferences, including the Tate Modern, Transmediale, Ars Electronica and the Japan Media Arts Festival. His work has received several awards, ranging from technical excellence to artistic invention and interaction design. He's given numerous workshops and master classes in software art, augmented reality, creative hacking, data forensics, computer networking, object-oriented programming for artists, virtual architecture, artistic game-development, information visualisation, UNIX/Linux and open source development practices worldwide. He is a long-time advocate of the use of free software in artistic production, distribution and education. In 1998 he established the artistic game-development collective Select Parks.
Michael Bauwens is founder of the Foundation for Peer-to-Peer Alternatives and works in collaboration with a global group of researchers in the exploration of peer production, governance, and property. He is a former editor-in-chief of the first European digital convergence magazine, the Dutch language Wave. Bauwens is the co-creator of a 3 hour documentary TechnoCalyps, an examination of the 'metaphysics of technology'. He taught and, with Salvino Salvaggio, co-edited a two-volume French language anthologies on the Anthropology of Digital Society. Michel collaborates with the Commons Strategies Group in initiating new conversations on deep social change around P2P relational dynamics and the Commons as new social form.
Manetas has produced oil paintings of wires, cables and computer hardware, created short looped fragments of video games such as "Tomb Raider," and exhibited computer-generated vibracolour prints among other things. After securing financial assistance from a nonprofit called the Art Production Fund, Manetas went out and hired Lexicon Branding, a California firm responsible for creating such product names as Powerbook, Pentium, Zima, Swiffer and Dasani. Lexicon's assignment was to create a name for this new movement.
In May 2000, during a packed press conference at the Gagosian Gallery in Manhattan - and a panel of people like Harvard cognitive scientist Steven Pinker ready to provide analysis of the term - Manetas unveiled a new word for an art movement. Actually, it was the squeaky, synthetic voice of a Sony Vaio that made the announcement. The word was "NEEN."
Nicolas Malevé is an artist, software programmer and data activist developing multimedia projects and web applications for and with cultural organisations. His current research work is focused on cartography, information structures, metadata and the means to visually represent them. He lives and works in Barcelona and Brussels.
Since 1998 Nicolas collaborates with Constant, a non-profit association, based and active in Brussels since 1997 in the fields of feminism, copyright alternatives and working through networks. Constant develops radio, electronic music and database projects by means of migrating from cultural work to work places and back again.
Olia Lialina was born in Moscow in 1971 and graduated from Moscow State University as a journalist and film critic in 1993. She is widely recognized as a pioneer of the Internet art scene and was the founder ofThe First Real Net Art Gallery and The Last Real Net Art Museum. She created more than a dozen net art projects and received awards for My Boyfriend Came Back From The War (WEB ART CONTEST, Sao Paulo, 1997) and Agatha Appears (NET-ART'98, ISEA, 1998). Lialina has presented and exhibited at conferences and exhibitions worldwide, including Ars Electronica, Linz, (1997, 1999); MOCA, Los Angeles (2000); Walker Art Center, Minneapolis (2000); La Biennale de Montreal, Montreal (2000); VIPER Festival, Basel (2000); MediaZlounge, New York (2000); Totalmuseum, Seoul (2001); and Media Connection, Rome (2001). Lialina writes on New Media, Digital Folklore and Vernacular Web and currently is a professor at the Merz Akademie in Stuttgart, Germany.
Paolo Cirio carves information flows through the re-contextualisation, manipulation and dissemination of information via various media. His artistic work explores the social, political and economic influence of information, through the media and techniques necessary for disseminating it. He has presented this theory and projects at the Courtauld Institute in London, Laboral in Gjion, National Museum of Contemporary Art Athens, STRP Festival, ISEA 2011 and many other media-art events.
Paolo Cirio works as a media artist in various fields: net-art, public-art, video-art, software-art and experimental storytelling. He has won prestigious media art awards and his works have been sustained by research grants, collaborations and residencies. He has exhibited in international museums and institutions worldwide. As public speaker he delivers lectures and workshops on media tactics at media art events and schools.
Raphaël Bastide, graphic designer, hacker, open source evangelist, collaborator, improvisor, digital digger. from 2008 to 2010 he lived in Bruxelles, where he received a MA Visual Arts, specialization in digital arts and typography from the École de Recherche Graphique (ERG). In 2011, he lived in Amsterdam and worked as a freelance graphic designer, and have collaborated with many artists and designers.
Yannick Antoine studied at the École de Recherche Graphique, majoring in digital art. He is interested in artificial intelligence, emergence and (science-)fictional universes, using among other things the social web. He co- created Cellule, showed at Parcours d'Artistes St-Gilles, and The Gate, exhibited in Brussels, Kortrijk, and at the Shanghai Biennale 2010.
Rafaël Rozendaal is a visual artist who uses the internet as his canvas. His artistic practice consists of websites, installations, drawings, and writing. Spread out over a vast network of domain names, he attracts a large online audience of over 12 million unique visits per year. His work researches the screen as a pictorial space, reverse engineering reality into condensed bits, in a space somewhere between animated cartoons and paintings. His installations involve moving light and reflections, taking online works and transforming them into spatial experiences. He also created BYOB (Bring Your Own Beamer), an open source DIY curatorial format that is spreading across the world rapidly. Selected exhibitions: Venice Biennial, Valencia Biennial, Moca Taipei, Casa Franca Brasil Rio, TSCA Gallery Tokyo (solo), Spencer Brownstone Gallery NYC (solo), NIMk Amsterdam (solo), Stedelijk Museum project space (solo).
Régine Debatty is a blogger, curator and critic based in London and Turin. She writes about the intersection between art,science and social issues on her blog we-make-money-not- art.com. She also contributes to several European design and art magazines and lectures internationally about the way artists, hackers and designers use science as a critical medium for discussion. Co-author of the 'sprint book' New Art/Science Affinities Published by: Miller Gallery at Carnegie Mellon University + CMU STUDIO for Creative Inquiry.
Robert Sakrowski was born and lives in Berlin. He is an art historian. From 1999–2003 he headed the project netart-datenbank.org at TU Berlin and curated several exhibitions in the field of Net-based art. 2007 - 2009, he has been working at the Ludwig Boltzmann Institute Media.Art.Research in Linz (net pioneers 1.0). Since 2007 he has created various exhibitions dealing with questions circling art and art practices connected to the web 2.0; these themes are also the main focus of his blog (www.curatingyoutube.net).
First session: 15:00 - 18:00
Second session: 20:00 - 23:00
Free entrance!

Bar open. Food by Picnik.
Location: iMAL
The event has been streamed on iMALtv
An archive : 1999-2010-2019
This page is an archive of the iMAL website that operated between 2010 and 2019. It compiles activities and projects made since 1999.
For our most recent news and activities, please check our new website at https://imal.org