The invisible landscape
26 January - 19 February 2017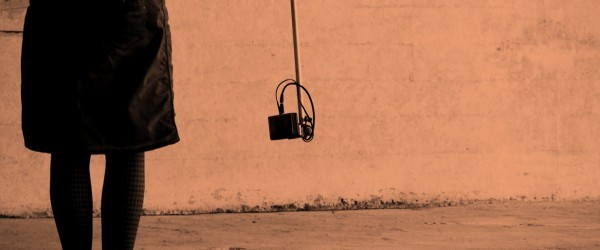 An installation by Christelle Fillod & Fabrice Moinet
Cyclones, whirling dervishes, a spinning top, the Möbius strip, the Klein bottle, the movement of the planets... The invisible landscape is inspired by the movements, attractions, ellipses and rotations of planets and solar systems, whose endless movements draw an infinite and invisible landscape in the universe.
This exhibition is part of OUTPUT, a series of two in which we present the finalised version of projects that have been developed during iMAL residencies. Christelle Fillod and Fabrice Moinet previously worked on this installation during a residency in 2015.
About the artwork
The invisible landscape explores the interaction between a movement and its own spatial reference frame. This topic was also at the core of Foucault's pendulum experiment1, in which the plane of a pendulum's swing appears to rotates clockwise. What is actually rotating, though, is not the pendulum, but Earth; the pendulum keeps oscillating in the same plan relatively to another reference frame. The experiment forces us to see all movements as relative, and to ponder on the nature of the reference system in which Earth is rotating.
Distant stars in the sky seem to approximatively follow the rotation of the oscillation plane of the pendulum, which indicates they could belong to the same reference frame. But how is this referential defined? How is it that the pendulum remains fixed in relation to this referential and not to another? And on a general level: if the reference changes, are we then perceiving the object differently? Will new realities appear?
Practical info
Opening: 26 January 2017, 18:30 - 22:00
Exhibition: 27 January - 19 February 2017
Wed - Sun, 13:00 - 18:00
Free entrance!

Location: iMAL, Quai des Charbonnages 30, 1080 Brussels
About the artists
Christelle Fillod (FR) is a visual artist and performer. She graduated from the National School of Fine Arts of Lyon, and was resident in Le Fresnoy, National Studio of Contemporary Arts. She created site-specific installation, video work and performances. Her work is the emerging experience on a research about perception: on how a specific reality is given to our senses, on how do we travel through the layer of the senses, on how to perceive outside of a predetermined culture, on how to move the point of assembly, on how to expand the world from within. Collaboration is an essential element of her work, and often she invites or joins Gary Hill on various artistic proposals. She also collaborated with a.o. Christian Châtel (FR/NO), Fiorenza Menini (FR / IT), Christine DeSmedt (B), Meg Stuart (B/US), Sachiyo Takahashi (JP), ...
> http://www.christellefillod.net
Fabrice Moinet (FR/BE) is sound designer, sound engineer and software programmer. Born in France, Fabrice studied mathematics and science at the university of Bordeaux while always involved in music and working with musicians. During his studies he started focusing on acoustics and received the training to be a sound engineer. For several years, he was a forum member of the IRCAM, he taught at the National Audiovisual Institute in Paris and was invited to the MIT (Massachusetts Institute of Technology). In parallel to his activity as a sound engineer, Fabrice is passionate about finding peculiar soft- and hardware setups and electronic solutions for contemporary art productions: he collaborated with the French hip hop choreograph Frank II Louise, with contemporary composer Benedict Mason, developed soft- and hardware for the Moulin Rouge in Paris and programmed the software for Christina's installation 'Turning Dreams and Shifting Harbors' shown in Los Angeles in 2003.
Practical Info
Dates
Opening: 26 January 2017, 18:30-22:00
Exhibition: 27 January - 19 February 2017
Wed-Sun, 13:00-18:00
Free entrance!
Group visits
+32-2-410 30 93
info@imal.org
Location: iMAL
Quai des Charbonnages 30 Koolmijnenkaai
1080 Brussels
An archive : 1999-2010-2019
This page is an archive of the iMAL website that operated between 2010 and 2019. It compiles activities and projects made since 1999.
For our most recent news and activities, please check our new website at https://imal.org