Summer Digital Workshops 2017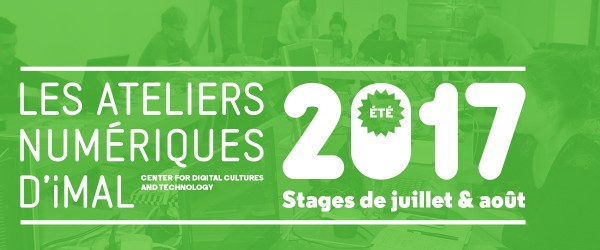 Introduction au Physical Computing : Arduino (18 - 21 juillet)
Ce stage est une introduction au "Physical computing" ou comment fabriquer un objet numérique capable d'interagir avec son environnement aussi bien proche que distant.
Le stage s'appuie sur Arduino, une plateforme électronique dotée d'un micro-processeur programmable, très utilisée par les makers, artistes et bricoleurs numériques. Arduino peut "sentir" l'univers qui l'entoure au moyen de capteurs, ou agir sur lui par le biais de mouvement, de son, de lumière. Relié à un ordinateur, Arduino peut aussi être son interface avec le monde réel.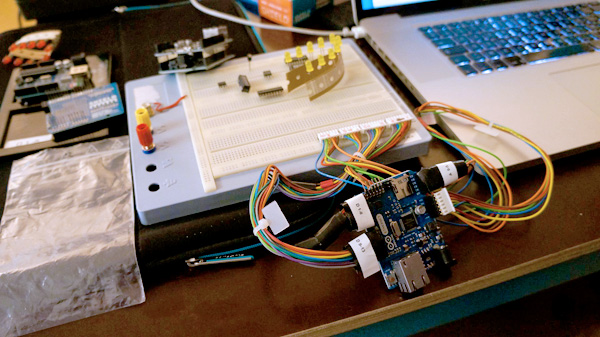 Arduino a été dévelopé par des artistes pour des applications expérimentales et artistiques. L'interface de programmation est très proche de Processing. Arduino est un projet open-source bien documenté et entouré d'une grande communauté d'utilisateur.
Il existe plusieurs déclinaisons de la plateforme Arduino. Arduino UNO est l'interface la plus universelle. L'ESP8266 est un autre circuit intégré à microcontrôleur avec connexion WiFi programmable en Arduino. La version ESP8266 Wemos coute moins de 5€ et est particulièrement bien adaptée au physical computing. Lors de cet atelier, nous découvrirons des exemples d'applications IOT, domotiques…
Les participants disposeront de kits d'expérimentation composés de plateformes Arduino et d'un ensemble de composants éléctroniques de base, dont certains prémontés pour pouvoir créer rapidement et avec un minimum de connaissance de petits dispositifs autonomes.
Site: Arduino.cc
Prérequis:
Notions de base de programmation (par exemple via Introduction à l'Art du Code - Processing : 11 - 14 juillet 2016)
"Scrap is gold" (les déchets sont de l'or) est la devise des hackers DIY. Il est recommandé aux participants d'amener vieux jouets cassés ou vieilles imprimantes contenant moteurs et autres composants électroniques pour compléter le stock de pièces détachées...
Prix: 100€ (4 jours)
Inscription
Via le formulaire en ligne
Courses take place from 10:00 to 18:00
Doors open at 9:45
Language:
French (oral understanding necessary)
Location: iMAL
30, Koolmijnenkaai / Quai des Charbonnages
1080 Brussels (Belgium)
Prices:
Processing: 100€
Blender: 100€
FabLab: 140€ (incl. material)
Arduino: 100€
Raspberry Pi: 50€ each
Registration: through this online form
Because the number of participants is limited (max. 15 persons), you are advised to register as soon as possible.
Once a workshop has reached its minimum number of participants, payment info will be send to the attendees. Your registration is only confirmed once your payment is received.
An archive : 1999-2010-2019
This page is an archive of the iMAL website that operated between 2010 and 2019. It compiles activities and projects made since 1999.
For our most recent news and activities, please check our new website at https://imal.org