warning: unlink(/tmp/19198.XML_API___MODSEC_PREVIEW_VENDOR__.0a9bd528.tmp.cache): Operation not permitted in /home2/imalorg/legacy.imal.org/drupal/sites/all/modules/flickrapi/phpFlickr/phpFlickr.php on line 115.
Code, Arts & Crafts #4
Samedi, 19 Juin 2010 | 14:00 - 18:00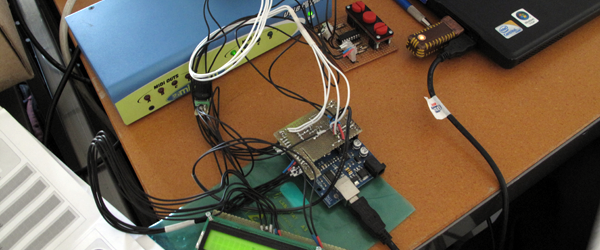 Les ateliers numériques du samedi
Dans la continuité des Ateliers Numériques d'été et suite à de nombreuses demandes, iMAL met enfin sur pied les Ateliers Code, Arts and Crafts!, tous les mois et toute l'année!
Venez travailler sur vos projets Arduino ou Processing en groupe, trouvez du soutien technique pour vos codes et bricolages électroniques, venez vous initier à de nouvelles pratiques numériques ou simplement rencontrer de nouveaux collaborateurs.
Destinés à des personnes ayant déjà une base de programmation dans les environnements Arduino ou Processing (après avoir suivit un stage d'été par ex.), ces ateliers vous accueillent une fois par mois avec une équipe hors pair, dont Yannick Antoine (Processing) et Fabrice Moinet (Arduino, électronique), qui vous accompagneront dans vos projets les plus fous.
Infos Pratiques
Code, Arts & Crafts! est gratuit, pour participer il suffit de vous inscrire ici!
Si vous avez la moindre question n'hésitez pas à nous contacer: marie-laure@imal.org
Adresse
iMAL, Center for digital cultures and technology
30 Quai des Charbonnages / Koolmijnenkaai 30, 1080 Brussels
(metro Comte de Flandre / Graaf van Vlanderen)
Une archive : 1999-2010-2019
Cette page est une archive du site d'iMAL tel qu'il existait entre 2010 et 2019. Il documente activités et projets créés depuis 1999.
Pour notre actualité et nos activités plus récentes, veuillez vous rendre sur notre nouveau site https://imal.org