Code, Arts & Crafts #4
zaterdag, 19 juni 2010 | 12:00 - 16:00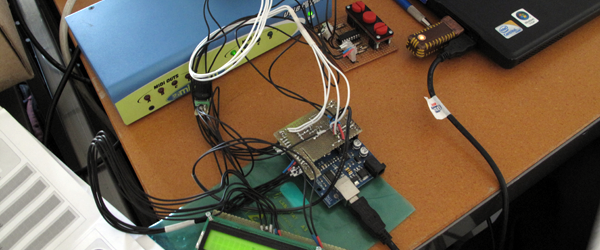 Zaterdags digitale workshops
In navolging van de Ateliers Numériques d'été en op algemeen verzoek, zet iMAL nu eindelijk de Ateliers Code, Arts & Crafts! op poten, elken maand en de ganse jaar door!
Kom in groep werken aan je Arduino en Processing projecten, vraag om technische ondersteuning voor je codes en elektronische bricolages, leer meer over nieuwe digitale trends of ontmoet gewoonweg mensen waarmee je wil samenwerken.
Iedere maand wordt je in deze workshopsessies - bestemd voor mensen die reeds basisvaardigheden hebben met programmeren met Arduino of Processing - verwelkomd door een ijzersterk team, bestaande uit o.a. Yannick Antoine (Processing) en Fabrice Moinet (Arduino, electronica), dat zal proberen je te volgen in jouw gekste creaties.
Praktische Info
De toegang is gratis, om deel te nemen, schrijf je je gewoon in!
Mocht je vragen hebben, neem dan gerust contact op met marie-laure@imal.org
Adres
iMAL, Center for digital cultures and technology
30 Quai des Charbonnages / Koolmijnenkaai 30, 1080 Brussels
(metro Comte de Flandre / Graaf van Vlanderen)
Een archief : 1999-2010-2019
Deze pagina is een archief van de iMAL website zoals die tussen 2010 en 2019 bestond. Alle activiteiten en projecten die sinds het begin in 1999 door iMAL georganiseerd zijn zijn hier gearchiveerd.
Het meest recente nieuws en activiteiten kan je terug vinden op onze nieuwe website: imal.org