Connecting Cities symposium
Vendredi, 11 Mars 2016 | 12:00 - 18:00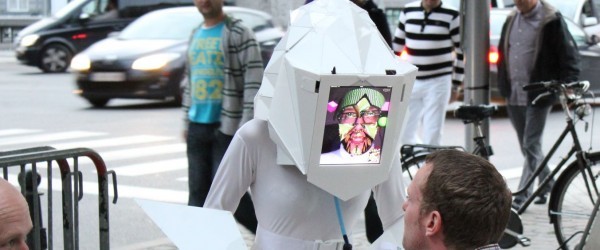 From urban media facades to urban media environments
Ce symposium offrira un aperçu des activités déployées au sein des thématiques curatoriales Networked City 2013, Participatory City 2014 et In/Visible City 2015. En se basant sur l'expérience des projets produits pour Connecting Cities, ce symposium abordera le passé, présent et futur des arts nouveaux médias dans l'espace public, ainsi que la grande variété de formes qu'ils peuvent emprunter.
L'accès au symposium ne nécessite pas d'inscription préalable.
Programme complet et plus d'info sur les intervenants
Le symposium sera rehaussé de la (télé-)présence du 'Famous New Media Artist Jeremy Bailey'. À partir de son studio à Toronto, il s'incarnera, à distance, dans son Master/Slaves Invigilator System, interagira avec le public et explorera les rues de Bruxelles.
Plus d'infos sur Master/Slave Invigilator System
Video archive
Programme
Welcoming words
Yves Bernard
Director, iMAL - Center for Digital Cultures and Technology
Barbara Gessler
Head of Unit Culture at the Education, Audiovisual and Culture Executive Agency (EACEA)
Susa Pop
Initiator of Connecting Cities Network
Connecting Cities Network facts & statements
Keynote presentation
People-Centered Experience Design of Transient Spaces in Hybrid Cities and Airports
Dr. Dr. Norbert Streitz
Scientific Director, Smart Future Initiative
From In/Visible City to Open Source City
Moderator: Tanya Toft
Institute of Arts and Cultural Studies, Copenhagen University
Darko Fritz
Museum of Contemprorary Art Zagreb
Loraine Furter
Hybrid Publishing Group
Nerea Calvillo
Medialab Prado
Intermezzo by Jeremy Bailey's Master/Slave Invigilator System
From Networked City to Translocal City
Moderator: Susa Pop
Diana Civle
Atklāj Rīgu // European Capital of Culture Riga 2014
Céline Jouenne
Videospread // ECoC European Capital of Culture 2013
Gernot Tscherteu
Media Architecture Institute
From Participatory City to Co-Creating City
Moderator: Yves Bernard
Cristina Ampatzidou
University of Groningen
Niels Wouters
University of Leuven - Department of Architecture
Roeland Dudal
Architecture Workroom Brussels
Master/Slaves Invigilator System by Jeremy Bailey
Telepresence performance in the streets of Brussels. Starting point at iMAL. More info.
About Connecting Cities
Connecting Cities is a European and worldwide expanding network aiming to build up a connected infrastructure of media facades, urban screens and projection sites to circulate artistic and social content. In opposition to the commercial use of these urban media, we establish them as platforms on which citizens can exchange – within the city as much as between cities.
In the past three four years, the Connecting Cities Network has pursued an artistic research programme that combined workshops and conferences with the production of interactive artworks which are presented every year during the Connecting Cities Events.
The initiator of the project is Public Art Lab (Berlin) in cooperation with Ars Electronica Futurelab Linz, BIS (Body Process Arts Association) Istanbul, FACT Liverpool, iMAL Brussels, m-cult Helsinki, Medialab Prado Madrid, Media Architecture Institute Vienna, Museum of Contemporary Art Zagreb, Riga 2014 and Videospread Marseille.
Other partners include Aarhus University, Marseille-Provence 2013, MUTEK Montreal Quartier des spectacles Montreal, Foundation Bauhaus Dessau, Verve Cultural Sao Paulo, Federation Square Melbourne, Media Arts Lab Sapporo, xm:lab Saarbrücken, The Concourse Sydney, ETOPIA Zaragoza, 403 International Art Center Wuhan, Screens in the Wild London, Streaming Museum New York, Illuminating York and many more.
Infos Pratiques
Doors: 12:30
Symposium: 13:00 - 18:00
Performance Jeremy Bailey: 18:00 - 19:00

The presentations and debates will be in English.
Free Entrance - No registration required
Bar open!
Location: iMAL
30, Quai des Charbonnages Koolmijnenkaai
1080 Brussels
Streamed live on iMAL.tv
Photographer: Zoé Giloux
Filming & Editing: Lotte Knaepen
Une archive : 1999-2010-2019
Cette page est une archive du site d'iMAL tel qu'il existait entre 2010 et 2019. Il documente activités et projets créés depuis 1999.
Pour notre actualité et nos activités plus récentes, veuillez vous rendre sur notre nouveau site https://imal.org