warning: unlink(/tmp/19198.XML_API___MODSEC_PREVIEW_VENDOR__.0a9bd528.tmp.cache): Operation not permitted in /home2/imalorg/legacy.imal.org/drupal/sites/all/modules/flickrapi/phpFlickr/phpFlickr.php on line 115.
Telepuppet.tv - Ali Momeni & Nima Dehghani
4 Octobre - 5 Octobre 2014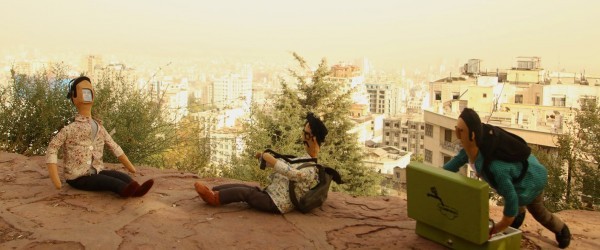 CONNECTING CITIES: Participatory City 2014 / Nuit Blanche
Dans le cadre du projet européen Connecting Cities : Participatory City 2014, de la Quinzaine Numérique et durant la Nuit Blanche Bruxelles, iMAL présente telepuppet.tv, d'Ali Momeni et Nima Dehghani (USA/Iran).
telepuppet.tv, un projet collaboratif qui aborde la problématique de la migration transnationale à l'aide de marionnettes augmentées, de projections urbaines et de vidéos en ligne.
Les artistes et leurs marionnettes sont dans un premier temps venus à la rencontre de communautés immigrées à Bruxelles, Liverpool et Madrid, pour une série d'interviews autour des souvenirs et des liens affectifs avec leurs pays d'origine.
Les marionnettes de telepuppet.tv, augmentées d'yeux-caméra et d'oreilles-micro, se sont ensuite rendues en Iran, pour filmer une série de capsules vidéos dans la continuité de ces rencontres.
Ce samedi 4 octobre, le théâtre mobile de telepuppet.tv va parcourir la Nuit Blanche Bruxelles. À l'aide d'un dispositif de projection urbaine, les artistes vont montrer sur divers murs et façades du centre-ville les récits d'immigration collectés par les marionnettes, établissant ainsi une plate-forme de performance et de narration publique temporaire.
Dans le cadre de Connecting Cities 2014 : Participatory City, telepuppet.tv sera également présenté au Medialab Prado (Madrid) les 25 et 26/9, et le 2/10 à FACT (Liverpool).
Ali Momeni & Nima Dehghani
Ali Momeni is into dynamic systems and moving targets; he works with kinetics, electronics, software, sound, light, people, plants and animals. His creative output ranges from sculptures and installations, to urban interventions and music theater performance.
Momeni was born in Isfahan, Iran and emigrated to the United States at the age of twelve. He completed his doctoral degree in music composition, improvisation and performance with computers from the Center for New Music and Audio Technologies in UC Berkeley. He spent three years in Paris where he collaborated with performers and researchers from La Kitchen, IRCAM, Sony CSL andCIRM. Between 2007 and 2011, Momeni was an assistant professor in the Department of Art at the University of Minnesota in Minneapolis, where he directed the Spark Festival of Electronic Music and Art, and founded the urban projection collective called the MAW. Momeni currently teaches in the School of Art at Carnegie Mellon University and oversees CMU ArtFab.
Nima Dehghani is a multi-disciplinary artist whose work explores the relations between society, politics, and audience interactions in public spaces: physical or virtual.
Nima works predominantly in the medium of Theater and performance art, but has recently been adding digital media to his performances. He strives to find the most effective way to influence the audience and society through new experiences in experimental media.
His recent studies are on virtual arts to combine performance art with internet and social networks. "Netformance" is the name of his recent project including online performances.
Nima was born in Tehran, Iran in 1986. He completed his BA's with distinction at IUST School of Architecture in Tehran in 2010 and currently attends Carnegie Mellon University to complete his Masters degree in Fine Arts.
Infos Pratiques
Samedi 4 Octobre
22:00 - 02:00
Dans le cadre de la Nuit Blanche Bruxelles
Gratuit et en plein air!
Location:
Parcours entre Rue Marché aux Herbes et Rue Saint-Pierre
1000 Brussels
Pictures & videos by Ali & Nima
Crédits
IMAL co-produit et présente telepuppet.tv dans le cadre de Connecting Cities: Participatory City 2014, la Quinzaine Numérique et la Nuit Blanche Bruxelles.

Connecting Cities est un projet européen initié par Public Art Lab (Berlin), avec la collaboration de 23 partenaires internationaux dans 21 villes.
Connecting Cities est soutenu par le Programme Culture 2007-13 de Union Européenne. La Quinzaine Numérique est organisée et soutenue par la Fédération Wallonie-Bruxelles.

Ali Momeni est soutenu par Creative Capital et Carnegie Mellon University School of Art

En co-production avec FACT, soutenus par Threshold Studios

Une archive : 1999-2010-2019
Cette page est une archive du site d'iMAL tel qu'il existait entre 2010 et 2019. Il documente activités et projets créés depuis 1999.
Pour notre actualité et nos activités plus récentes, veuillez vous rendre sur notre nouveau site https://imal.org