Hidden Histories, Public Libraries
Samedi, 24 Octobre 2015 | 14:00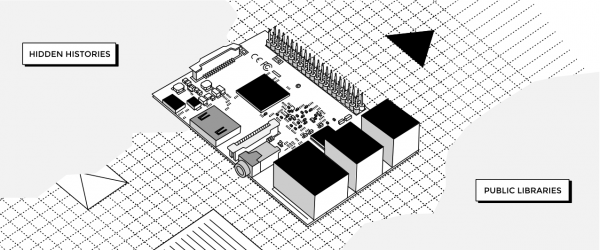 A project by xm:lab
Hidden Histories, Public Libraries s'intéresse aux expériences de lecture collective numérique dans l'espace public.
Hidden Histories, Public Libraries fait appel à des outils DIY et open source destinés à la publication de documents et à leur accès en des endroits spécifiques. Le visiteur est invité à participer aux questionnements du projet : les smartphones et tablettes peuvent-ils prolonger la tradition de la lecture collective ? De quelle(s) façon(s) le public peut-il partager et produire de nouveaux imaginaires urbains ? Comment révéler une histoire – petite ou grande – aujourd'hui cachée ?
Découvrez des sons, images et autres documents du passé et présent de Bruxelles à travers votre téléphone portable et l'Hybrid Player. Apprenez comment construire vous-même un dispositif similaire, pour l'utiliser dans d'autres contextes !
Avec Loraine Furter, Daniel Jackson et Simon Worthington.
Un projet développé par xm:lab, Hybrid Publishing Group, dans le cadre du projet européen Connecting Cities.
En collaboration avec BNA-BBOT et La Fonderie.
Infos Pratiques
24 Octobre
Ballade/démo dans l'espace public
(Molenbeek & Anneessens)
Départ à 14:00 à La Fonderie
Rue Ransfort 27
Bruxelles 1080
Crédits
Hidden Histories, Public Libraries is commissioned by Medialab Prado in the framework of Connecting Cities.
With the support of the Culture Programme 2007-2013 of the European Union and Fédération Wallonie-Bruxelles.
Hidden Histories, Public Libraries is presented in Brussels by iMAL, in the framework of In/Visible City 2015 and Festival des Arts Numériques.
Infos pratiques
24 Octobre
Ballade/démo dans l'espace public
(Molenbeek & Anneessens)
Départ à 14:00 à La Fonderie
Rue Ransfort 27
Bruxelles 1080