warning: unlink(/tmp/19198.XML_API___MODSEC_PREVIEW_VENDOR__.0a9bd528.tmp.cache): Operation not permitted in /home2/imalorg/legacy.imal.org/drupal/sites/all/modules/flickrapi/phpFlickr/phpFlickr.php on line 115.
Connecting Cities 2013 : Networked City
4 Octobre - 5 Octobre 2013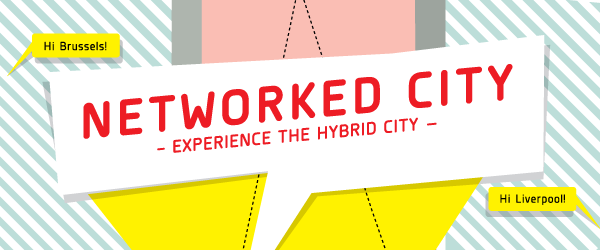 Œuvres et performances numériques urbaines entre Bruxelles et Liverpool
Dans le cadre du projet européen Connecting Cities 2013 : Networked City (La Ville en Réseau), l'esplanade Comte de Flandre et ses alentours seront pendant deux jours en connexion avec Liverpool, via une série d'œuvres surprenantes, participatives et ludiques proposées à tous dans l'espace urbain.
Grâce à ces œuvres urbaines, mobiles et connectés, iMAL propose d'explorer, de questionner et de stimuler de nouvelles formes d'expression et d'interaction dans l'espace public physique et en réseau au-delà des formats habituels des arts urbains, contemporains et numériques.
Connecting Cities est un projet initié par une dizaine de villes européennes (dont Bruxelles, Berlin, Istanbul, Helsinki, Madrid, Linz...) autour des écrans urbains et mobiles (smartphones, tablettes) de plus en plus présents dans l'espace public. Des nouveaux médias urbains qui peuvent devenir vecteurs d'échanges dans l'espace public, entre artistes et créatifs, activistes, passants et riverains, au niveau local et international.
PROGRAMME
Sander Veenhof (NL)


Découvrez le projet WeTube, une expérience de zapping citadin collectif.
Varvara Guljajeva & Mar Canet Sola (EE)


Varvara Guljajeva et Mar Carnet vous emmènent à Liverpool avec Binoculars to ... Binoculars from ..., un dispositif où vous êtes à la fois Big Brother et touristes curieux.
Jeremy Bailey (CA)


The Famous New Media Artist Jeremy Bailey sera "téléprésent" simultanément à Bruxelles et Liverpool, incarné par un duo d'esclaves anonymes et silencieux à qui il prêtera sa voix et son visage. Avec leur look détonnant et futuriste, les avatars de Master/Slave ne passeront pas inaperçus dans les rues du quartier.
Sander Veenhof (NL)


Prenez part à un flashmob en réalité augmentée avec Dance.AR, chorégraphie synchronisée mondiale.
Telekommunisten

Miscommunication Station est un système de téléconférence qui intègre des fonctions de traduction de textes. Cependant, erreurs de traduction, filtrage de contenu automatique trop zélé et délais de transmission en font une plate-forme qui ne permet de communiquer qu'avec grandes difficultés.
Infos Pratiques
Vendredi 4 & samedi 5 octobre
Vendredi : 16h00 - 00h00
Samedi : 14h00 - 00h00
Plein air - Entrée gratuite
Prix sympa (food & drinks)
Wifi gratuit!
Dance A.R & dj set:
Vendredi: 17:00-18:00 + 21:30-22:30
Samedi: 18:30-19:30 + 21:30-22:30
Master/Slave Inviligator System:
Vendredi: 18:30-19:30 + 20:30-21:30
Samedi: 16:30-17:30 + 17:30-18:30
Lieu: Esplanade Métro Comte de Flandre
Rue Sainte-Marie 31
1080 Bruxelles
Crédits
Connecting Cities Bruxelles est produit par iMAL et soutenu par la Fédération Wallonie-Bruxelles dans le cadre de son programme la Quinzaine Numérique, la Région de Bruxelles-Capitale, la commune de Molenbeek-Saint-Jean et de l'Union Européenne (Programme Culture).
À Liverpool, Connecting Cities est produit par FACT (Foundation for Art and Creative Technology).
Connecting Cities Network initiated by Public Art Lab in co-organization with Ars Electronica, Media Architecture Institute, FACT, Amber Platform, Museum of Contemporary Art Zagreb, m-cult, Medialab-Prado, iMAL, Foundation Riga 2014 and Videospread, in association with Mutek Montreal, Marseille-Provence 2013, Aarhus University, Quartier des spectacles Montréal, Foundation Bauhaus Dessau, Verve Cultural São Paulo; funded by the European Commission – Programme Culture; supported by Streampark TV and ARTE Creative.
Une archive : 1999-2010-2019
Cette page est une archive du site d'iMAL tel qu'il existait entre 2010 et 2019. Il documente activités et projets créés depuis 1999.
Pour notre actualité et nos activités plus récentes, veuillez vous rendre sur notre nouveau site https://imal.org