Connecting Cities 2013 : Networked City
3 oktober - 4 oktober 2013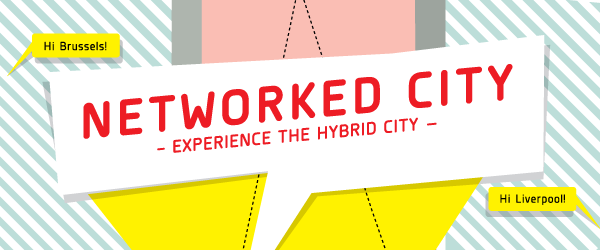 Interactieve installaties en performances tussen Brussel en Liverpool
In het kader van het Europese project Connecting Cities 2013 : Networked City, zal de Graaf van Vlaanderen-esplanade en zijn omgeving - via een reeks van verrassende, participatieve en ludieke kunstwerken waaraan iedereen in de stedelijke ruimte kan deelnemen - tijdens twee dagen met Liverpool (UK) verbonden zijn.
Connecting Cities is een initiatief van een tiental Europese steden (waaronder Brussel, Berlijn, Istanbul, Helsinki, Madrid, Linz, ...), rond stedelijke en mobiele schermen (smartphones, tablets) die in de stedelijke ruimte steeds meer aanwezig zijn. Nieuwe stadsmedia die vectoren van uitwisseling in de stedelijke ruimte kunnen worden, tussen kunstenaars en creatievelingen, activisten, omstaanders en bewoners, op een lokaal of een internationaal niveau.
PROGRAMMA
WeTube
Sander Veenhof

Ontdek het WeTube project, een ervaring van collectieve stadszapping.
Binoculars to... Binoculars from...
Varvara Guljajeva & Mar Canet Sola

Varvara Guljajeva en Mar Canet nemen jullie mee naar Liverpool met Binoculars to ... Binoculars from ..., een installatie tijdens dewelke jullie zowel Big Brother als nieuwsgierige toeristen zijn.
Master/Slave Invigilator System
Jeremy Bailey

The Famous New Media Artist Jeremy Bailey zal tegelijkertijd "teleaanwezig" in Brussel en Liverpool zijn, gespeeld door een duo anonieme en stille slaven aan wie hij zijn stem en zijn gezicht zal lenen. Met hun explosieve en futuristische look, zullen de avatars van Master/Slave in de straten niet onopgemerkt blijven.
Dance.AR
Sander Veenhof

Neem deel aan een flashmob in "augmented reality" met Dance.AR, een wereldwijde gesynchroniseerde choreografie.
Miscommunication Station
Telekommunisten

Miscommunication Station is a video communication platform with universal text translation which allows users to communicate with each other using their own preferred languages. However, errors in automated translation, overzealous automated content filtering and processing delays result in a platform that allows you to communicate only with great difficulty.
Praktische Info
Vrijdag 4 & zaterdag 5 oktober
14u00-00u00
Open lucht - Gratis toegang
Vriendelijke prijzen (food & drinks)
Gratis Wifi!
Dance A.R: x:x
Master/Slave Invigilator System: x:x
Dj set: 22u00
Plaats: Graaf van Vlaanderen-metro-esplanade
Sint-Mariastraat 31
1080 Brussel
Credits
Connecting Cities Brussels is een productie van iMAL en wordt gesteund door het Fédération Wallonie-Bruxelles in het kader van het 'Quinzaine Numérique' programma, het Brussels Hoofstedelijk Gewest, de gemeente Sint-Jans-Molenbeek en de Europese Unie (Cultuurprogramma).
Connecting Cities Network is een initiatief van Public Art Lab in samenwerking met Ars Electronica, Media Architecture Institute, FACT, Amber Platform, Museum of Contemporary Art Zagreb, m-cult, Medialab-Prado, iMAL, Foundation Riga 2014 en Videospread, in associatie met Mutek Montreal, Marseille-Provence 2013, Aarhus University, Quartier des spectacles Montréal, Foundation Bauhaus Dessau, Verve Cultural São Paulo; wordt gefinanceerd door de Europese Commissie – Cultuur Programma ; wordt gesteund door Streampark TV en ARTE Creative.
Een archief : 1999-2010-2019
Deze pagina is een archief van de iMAL website zoals die tussen 2010 en 2019 bestond. Alle activiteiten en projecten die sinds het begin in 1999 door iMAL georganiseerd zijn zijn hier gearchiveerd.
Het meest recente nieuws en activiteiten kan je terug vinden op onze nieuwe website: imal.org