Connecting Cities 2013 : Networked City
3 October - 4 October 2013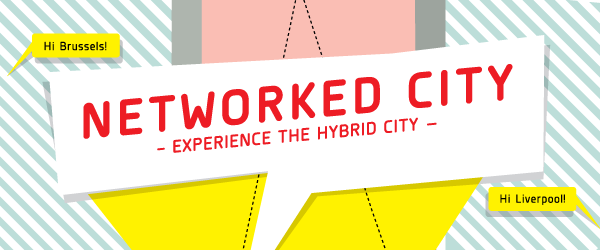 Urban media art and performances between Brussels and Liverpool
In the framework of the European project Connecting Cities 2013 : Networked City, the metro esplanade Comte de Flandre / Graaf van Vlaanderen and its surroundings will be for two days connected to Liverpool (UK), through a series of surprising, participatory and playful artworks accessible to all in the public space.
Through those urban, mobile and connected pieces, we aim to explore, to question and to stimulate emerging technologies and mediums, beyond the traditional formats of digital art.
Connecting Cities is initiated by a dozen European cities (within Brussels, Berlin, Istanbul, Helsinki, Madrid, Linz, ...), around urban and mobile screens (smartphones, tablets) which are everyday more present in the urban space. New urban medias which can become vectors of exchange in the public space, between artists and creatives, activists, passersby and inhabitants, on a local and international level.
PROGRAM
Sander Veenhof (NL)


Discover the WeTube project, an urban collective zapping experience.
Varvara Guljajeva & Mar Canet Sola (EE)


Varvara Guljajeva and Mar Carnet Sola will take you to Liverpool with Binoculars to ... Binoculars from ..., an installation during which you will both be Big Brother and curious tourists.
Jeremy Bailey (CA)


The Famous New Media Artist Jeremy Bailey will be silmutaneously "telepresent" in Brussels and in Liverpool, played by an anonym and silent slave duo to whom he will lend his voice and face. With their explosive and futuristic look, the Master/Slave avatars won't be missed in the streets of the area.
Sander Veenhof (NL)


Participate to a flashmob in augmented reality with Dance.AR, a worldwide synchronised choreography.
Telekommunisten


Miscommunication Station is a video communication system with universal text translation. However, errors in automated translation, overzealous automated content filtering and processing delays result in a platform that allows you to communicate only with great difficulty.
Practical Info
Friday 4 & Saturday 5 October
Friday : 16:00 - 00:00
Saturday : 14:00 - 00:00
Open air - Free entrance
Friendly prices (food & drinks)
Free Wifi!
Dance.AR + DJ set:
Friday: 17:00-18:00 + 21:30-22:30
Saturday: 18:30-19:30 + 21:30-22:30
Master/Slave Inviligator System:
Friday: 18:30-19:30 + 20:30-21:30
Saturday: 16:30-17:30 + 17:30-18:30
Location: Metro esplanade Comte de Flandre / Graaf van Vlaanderen
Rue Sainte-Marie - Sint-Maria straat 31
1080 Brussels
Credits
Connecting Cities Brussels is produced by iMAL and supported by the Fédération Wallonie-Bruxelles in the framework of the program the 'Quinzaine Numérique', the Région de Bruxelles-Capitale, the commune de Molenbeek-Saint-Jean and the European Union (Culture Programme).
In Liverpool, Connecting Cities is produced by FACT (Foundation for Art and Creative Technology).
Connecting Cities Network initiated by Public Art Lab in co-organization with Ars Electronica, Media Architecture Institute, FACT, Amber Platform, Museum of Contemporary Art Zagreb, m-cult, Medialab-Prado, iMAL, Foundation Riga 2014 and Videospread, in association with Mutek Montreal, Marseille-Provence 2013, Aarhus University, Quartier des spectacles Montréal, Foundation Bauhaus Dessau, Verve Cultural São Paulo; funded by the European Commission – Programme Culture; supported by Streampark TV and ARTE Creative.
An archive : 1999-2010-2019
This page is an archive of the iMAL website that operated between 2010 and 2019. It compiles activities and projects made since 1999.
For our most recent news and activities, please check our new website at https://imal.org