MFF2010: The Intercultural and Communicative Potential of Urban Screens and Media Facades
Monday, 4 October 2010 | 14:00 - 18:00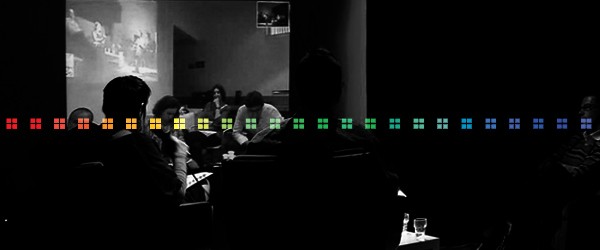 Public Panel
MFF2010 closing event is happening in Brussels during the week-end of the Nuit Blanche, October 1-3. On this occasion, curators and artists will gather in Brussels for a final public panel to share the results of the project and discuss with you the issues and future of urban screens and media facades, and how they can be a new communication format for interconnecting cities beyond borders.
Program :
14:00-14:15
Welcome speech
by CIVA, Yves Bernard (iMAL), and Susa Pop (initiator of MFF2010)
14:15-14:50
Introduction and video documentation of MFF2010
Video documentation of the artists' projects through the connected cities, presented by MFF2010 curators and artists.
14:50-15:50
Panel Session 1
The intercultural and communicative potential of urban screens and media facades
Which content creates an environmental reference with public participation and interconnects the local scenes on a European level? What are the possibilities to lead an intercultural dialogue through the networked infrastructure of urban screens and media facades?
15:50-16:00
Open discussion

16:15-17:15
Panel Session 2
Urban Screens – a cooperation model at the interfaces of the digital worlds, culture, economy, technology, urbanism and public authorities
Urban Screens are a cooperation model of screensholders, new technology and software developers, urban planners, city marketing, agencies, artists, media designers, associations and collectives, people and public authorities. What are the regulations and public policies for urban screens and media facades? What are technological future models for urban screens to create interaction with the public audience? What places for artistic content and community-driven initiatives? What are guidelines of recommendation of how to curate urban screens and media facades?
17:15-17:30
Open discussions

17:30-18:00
Get together
With:
- MFF2010 Curators: Susa Pop and Mirjam Struppek (Public Art Lab / Berlin), Minna Tarkka (m-cult / Helsinki), Stefan Mittlboeck (Ars Electronica / Linz), Heather Corcoran (FACT / Liverpool), Yves Bernard and Marie-Laure Delaby (iMAL / Brussels)
- MFF2010 Artists Julian Oliver (The Artvertiser), Antoine Schmitt (CitySleepLight)
Practical Info
Public Panel
Spoken language: English
Location:
CIVA, International Centre for Urbanism, Architecture and Landscape
Rue de l'Ermitage, 55, Kluisstraat
1050 Bruxelles