Ways of Connecting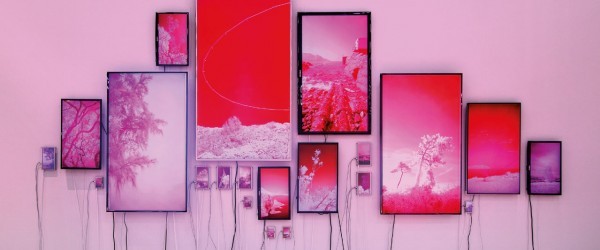 An exhibition with Evan Roth, Raphaël Bastide & Louise Drulhe
The exhibition places in conversation two pieces that reveal and translate in new forms the infrastructures and mechanisms underlying our connected environment. They are also related by their use of P2P web technologies, an alternative to the currently dominating model of centralised web.
Red Lines, by Evan Roth, is an online synchronised viewing experience of contemplative videos that evoke critical points of the internet infrastructure.
Renaming the Web, by Raphaël Bastide and Louise Drulhe is an installation illustrating the structure and fragility of the peer-to-peer computer network that forms it.
Meet the artists!
On Saturday 27 April, 14:00, discover Red Lines and Renaming the Web in presence of the artists. They will explain and discuss their respective pieces with the audience.
The visit will be followed at 18:00 by a debate between Evan Roth and Raphaël Bastide, introduced and moderated by Sarah Grant (Radical Networks).
The space
Offices are often hidden behind a "Staff only" door. But as the construction of our future centre is still in progress, we invite you to discover the Ways of Connecting exhibition in our temporary office space. The two shown pieces fit well in this unusual setting, with the raw materials and recycled hardware of Renaming the Web, and Red Lines' core concept of a work meant to be displayed and lived with everyday, whether it's at work or in your living room.
Practical Info
Location:
iMAL
Koolmijnenkaai 30-34 Quai des Charbonnages
1080 Brussels
Entrance through the courtyard / 2nd floor
Opening:
April 24th 2019, 18:00

Exhibition:
April 25th - May 17th 2019
Wednesday - Sunday, 12:30 - 17:30
Closed on May 1st!
Talk & debate:
April 27th 2019, 18:00
Free entrance!
Group visits:
02 410 30 93
info@imal.org
Header, original picture: Landscapes - Carroll/Fletcher at the Armory Show 2017. Photo by Joshua Citarella, courtesy Carroll/Fletcher.
Credits
Red Lines, by Evan Roth is commissioned and produced by Artangel. The project is generously supported by Creative Capital.
Artangel is generously supported using public funding by Arts Council England, and by the private patronage of Artangel International Circle, Special Angels and The Company of Angels.
Developed by Cosmic.berlin using WebTorrent.
⚹
Renaming the web, by Raphaël Bastide and Louise Drulhe was created and first exhibited in May 2018 at Rinomina, Paris.
Raphaël & Louise thank Daniela Baldelli & Markus Lichti.
⚹
Ways of connecting is produced by iMAL, and curated by Yannick Antoine.
Partner: Art Brussels

Presented in the framework of downtownbrussels.art (4-5 May) and #euinmyregion (2-10 May)
Thanks: CF2D
iMAL is structurally supported by the Fédération Wallonie-Bruxelles (sector Digital Arts and General Directorate for Culture) and the Flemish authorities (Vlaamse overheid-Vlaams Brusselfonds).
An archive : 1999-2010-2019
This page is an archive of the iMAL website that operated between 2010 and 2019. It compiles activities and projects made since 1999.
For our most recent news and activities, please check our new website at https://imal.org