Workshop for teenage makers at FabLab.iMAL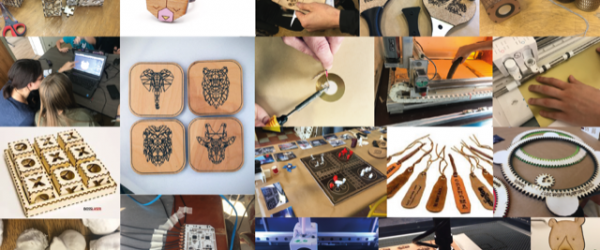 Inscription / Inschrijving
Dans le cadre du projet FabLab Mobile, iMAL organise des ateliers au cours desquels les adolescents peuvent développer leurs propres projets dans notre FabLab! Tu as plus de 14 ans? Tu es bricoleur? Fan de numérique? Curieux? Créatif? Avec un projet scolaire à réaliser ou juste avec l'envie de t'amuser? Tu as déjà une idée en tête? Alors nos ateliers sont faits pour toi!
In het kader van het Fablab Mobiel-project organiseert iMAL dit jaar verschillende ateliers, waarin jongeren zelf hun projecten kunnen komen ontwikkelen in onze FabLab! Ben je ouder dan 14 jaar? Ben je een bricoleur? Fan van het digitale? Nieuwsgierig? Creatief? Heb je een taak voor school of wil je gewoon plezier maken? Heb je al een idee over wat je wil maken? Dan zijn onze ateliers iets voor jou!
VOS INFORMATIONS Les données que vous nous fournissez sont utilisées: pour l'organisation de ces résidences, et pour nos statistiques. Ces informations ne sont pas transmises à des tiers. Si vous avez des questions ou des remarques à ce sujet, n'hésitez pas à nous contacter! YOUR DATA The data you're providing us are only used for organising these residencies, and for our statistics. These informations are not transferred to third parties. If you have any question or comment, don't hesitate to contact us! UW GEGEVENS De gegevens die u ons verschaft worden alleen gebruikt voor het organiseren van deze residenties, en voor onze statistieken. Deze informatie wordt niet doorgegeven aan derden. Indien u vragen of opmerkingen heeft, aarzel dan niet om contact met ons op te nemen!
An archive : 1999-2010-2019
This page is an archive of the iMAL website that operated between 2010 and 2019. It compiles activities and projects made since 1999.
For our most recent news and activities, please check our new website at https://imal.org