warning: unlink(/tmp/19198.XML_API___MODSEC_PREVIEW_VENDOR__.0a9bd528.tmp.cache): Operation not permitted in /home2/imalorg/legacy.imal.org/drupal/sites/all/modules/flickrapi/phpFlickr/phpFlickr.php on line 115.
CreativeFab 2013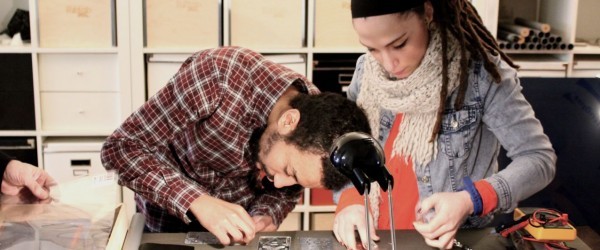 ERG (École de Recherche Graphique)
Fidèle à sa pédagogie ouverte, l'ERG a voulu un workshop ouvert aux étudiants de toutes options, toutes années. Les participants ont expérimenté dans toutes les directions: gravure au laser sur carrelage, graphisme sur plexi, découpe d'aluminium à la CNC, fabrication de pièces en bois pour mécanisme d'installation, esthétique jeux vidéos gravée sur panneau MDF, terrain imprimé en 3D,...
An archive : 1999-2010-2019
This page is an archive of the iMAL website that operated between 2010 and 2019. It compiles activities and projects made since 1999.
For our most recent news and activities, please check our new website at https://imal.org