Update_4 Biennial
21 September - 18 November 2012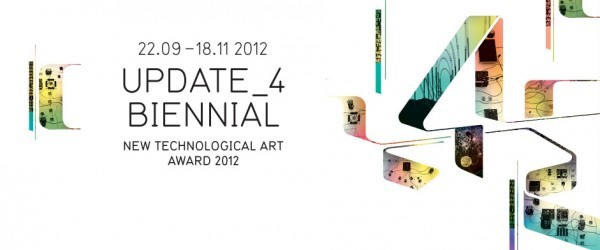 Update_4 at Zebrastraat
The following artists will be exhibited at Zebrastraat in Ghent:
Ambrosio Marcio (BR) - 12i

Cantoni Rejane & Crescenti Leonardo (BR) - Tunnel

Casas Constanza, Steyaert Pieter & Mitchell C. Mark (CL, BE, AU) - The Creators

Castro Juan Manuel (CO) - Heliotropika

Décosterd Michel & André (CH) - Cycloïd- E

Jeong Sion (KR) - Karat
Luque Sanchez Felix (SP) - Nihil Ex Nihilo

Oblak Nika & Novak Primoz (SI) - Sisyphus Actions

Stanza (UK) - Capacities

Urbonas Julijonas (LT) - Euthanasia Coaster

Veillat Aline (FR) - Pas de deux en vert et contre

Opening iMAL: Friday 21st September
18:00-22:00
Free entrance!
Opening La Cambre: Wednesday 19th September
Opening Zebrastraat: Thursday 20th September
Opening hours:
Wed>Sun, 14:00 - 18:00
Open on Thu. 1st November! (All Saints' Day)
Group visits
02 410 30 93
info@imal.org
Admission fees:
5€ (adults)
3€ (groups, students, unemployed)
0€ (-18 y.)
One single ticket valid for all 3 locations!
Location: iMAL
30 Koolmijnenkaai - quai des Charbonnages
1080 Brussels, BE
An archive : 1999-2010-2019
This page is an archive of the iMAL website that operated between 2010 and 2019. It compiles activities and projects made since 1999.
For our most recent news and activities, please check our new website at https://imal.org