Update_4 Biennial
21 september - 18 november 2012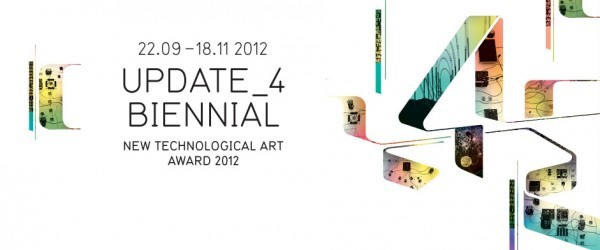 Update_4 at Zebrastraat
The following artists will be exhibited at Zebrastraat in Ghent:
Ambrosio Marcio (BR) - 12i

Cantoni Rejane & Crescenti Leonardo (BR) - Tunnel

Casas Constanza, Steyaert Pieter & Mitchell C. Mark (CL, BE, AU) - The Creators

Castro Juan Manuel (CO) - Heliotropika

Décosterd Michel & André (CH) - Cycloïd- E

Jeong Sion (KR) - Karat
Luque Sanchez Felix (SP) - Nihil Ex Nihilo

Oblak Nika & Novak Primoz (SI) - Sisyphus Actions

Stanza (UK) - Capacities

Urbonas Julijonas (LT) - Euthanasia Coaster

Veillat Aline (FR) - Pas de deux en vert et contre

Vernissage iMAL: vrijdag 21 September
18:00-22:00
Gratis toegang!
Vernissage La Cambre: woensdag 19 September
Vernissage Zebrastraat: donderdag 20 September
Openingsuren:
Woensdag-zondag, 14u-18u
Geopend op donderdag 1 November (Allerheiligen)

Groep bezoeken
02 410 30 93
info@imal.org
Toegangsprijzen:
5€ (vol.)
3€ (groepen, stud., werkzoek.)
0€ (-18 j.)
Een enkel ticket geldig voor alle 3 locaties!

Plaats: iMAL
30 Koolmijnenkaai
1080 Brussel
Een archief : 1999-2010-2019
Deze pagina is een archief van de iMAL website zoals die tussen 2010 en 2019 bestond. Alle activiteiten en projecten die sinds het begin in 1999 door iMAL georganiseerd zijn zijn hier gearchiveerd.
Het meest recente nieuws en activiteiten kan je terug vinden op onze nieuwe website: imal.org