warning: unlink(/tmp/19198.XML_API___MODSEC_PREVIEW_VENDOR__.0a9bd528.tmp.cache): Operation not permitted in /home2/imalorg/legacy.imal.org/drupal/sites/all/modules/flickrapi/phpFlickr/phpFlickr.php on line 115.
Felix Luque: Different Ways to Infinity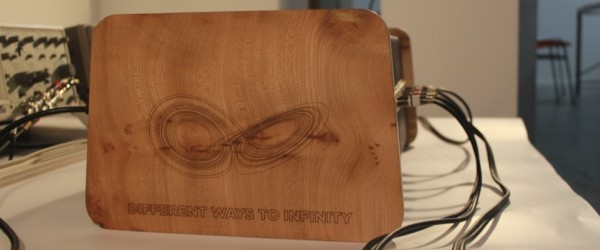 Installation
Avec cette résidence à iMAL et au FabLab.iMAL, Felix finalise son nouveau projet qui sera montré dans l'exposition Natures Artificielles au Festival VIA (Maubeuge), vernissage ce 14 Mars 2013.
Different Ways to Infinity explore les processus mystérieux menant aux découvertes scienfigiques, mélanges subtils d'accidents et de méthodologie rigoureusement scientifique. Felix propose une exposition des archives d'un laboratoire de recherche fictif, une sorte d'archéologie du futur révélant les étranges expériences de ce labo autour du chaos et de l'infini.
Different Ways to Infinity est composé de 3 parties: une installation constituée d'un synthétiseur analogique, d'oscilloscopes et haut-parleurs; un ensemble d'animations 3d et d'impressions grand format montrant des simulations informatiques de processus de dynamique des fluides et de sciences de la complexité; une sculpture générative, assemblage de modules géométriques ou «Space-filling polyhedra».
Crédits
Different Ways to Infinity a bénéficié d'une aide à la production de la Commission Arts Numériques (Fédération Wallonie-Bruxelles) ainsi que d'un soutien d'iMAL sous forme de résidence.
Une archive : 1999-2010-2019
Cette page est une archive du site d'iMAL tel qu'il existait entre 2010 et 2019. Il documente activités et projets créés depuis 1999.
Pour notre actualité et nos activités plus récentes, veuillez vous rendre sur notre nouveau site https://imal.org