Arts/Sciences#11: Evelina Domnitch & Dmitry Gelfand
woensdag, 23 mei 2012 | 18:00 - 21:00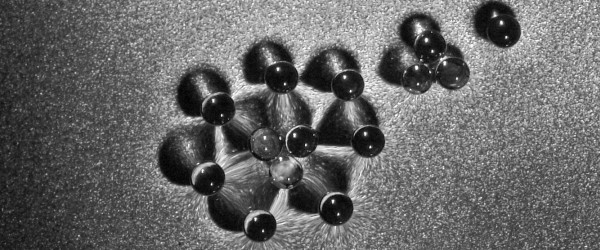 Presentation & Sonolevitation performance
iMAL nodigt Evelina Domnitch & Dmitry Gelfand, een kunsten/wetenschap-duo, uit voor een lezing en een akoestische spirituele performance. Samen creëren ze sensorische immersieve omgevingen die fysica, chemie en computerwetenschap vermengen met ongewone filosofische praktijken.
During the past decade, they have collaborated with numerous scientific research facilities, including the Drittes Physikalisches Institut (Goettingen University, Germany), the Institute of Advanced Sciences and Technologies (Japan), and the Department of Physics and Astronomy at the Vrije Universiteit (The Netherlands). In 2008, the duo co-founded the Optofonica Lab for Immersive Art-Science in Amsterdam.
Na een presentatie van hun projecten, Evelina Domnitch & Dmitry Gelfand zullen "Sonolevitation", een akoestische levitatie performance, spellen.
Sonolevitation (2007)
A 15 kHz acoustic vibration is vertically reflected at a precise distance from its source, generating a standing wave that levitates leaves of gold. The air between the intonator and the reflector is evenly divided into alternating areas of dynamic acoustic pressure and vacuous anti-nodal pockets. Within these pressureless voids, fluids and solids can be suspended and spun by the surrounding sound fields. An evocation of the weightless, frictionless environment commonly found in outer space is coupled with an extended opto-aural awareness of space-time itself: the floating objects modulate the frequency and amplitude of the standing wave that levitates them, consequently influencing one another's motion - each part is an inseparable, co-emergent reflection of the whole.
Praktische Info
Deuren: 20:00
Presentatie: 20:15
De presentatie is in het Engels
Vrije toegang
Bar geopend!
Plaats: iMAL
30, Koolmijnenkaai
1080 Brussel, BE
Ook uitgezonden op iMAL.tv
Een archief : 1999-2010-2019
Deze pagina is een archief van de iMAL website zoals die tussen 2010 en 2019 bestond. Alle activiteiten en projecten die sinds het begin in 1999 door iMAL georganiseerd zijn zijn hier gearchiveerd.
Het meest recente nieuws en activiteiten kan je terug vinden op onze nieuwe website: imal.org