Code, Arts & Crafts #6
zaterdag, 12 maart 2011 | 09:00 - 17:00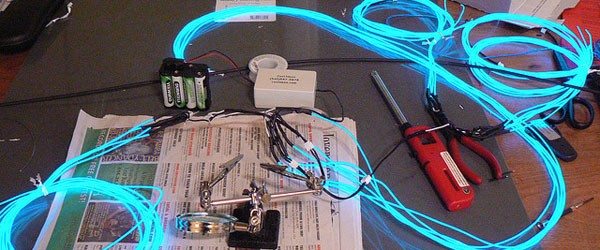 Electroluminescent wires & Computer vision
We open this new season of the Code, Arts & Crafts workshops with 2 new topics, one exploring the EL wires trend, the other reviewing the basis of computer vision through the OpenCV library for Processing.
Fabrice & Matthieu will make you discover these famous Electroluminescent wires (EL wires). Until then,
you can already enjoy some tutorials and projects conceived by the notorious Ladyada.
In parralel, Yannick will reveal you some tips & tricks of computer vision (or how to detect moving people/objects in front of a camera) by helping you to install and use the OpenCV library for Processing.
Finally, as we will work all day, some time will be dedicated to your personnal projects (Processing & Arduino), so you will be able to address fundamental questions to your favorite mentors.
Praktische Info
Workshop on Saturday March, 12th,
10:00-18:00
Max. 15 participants
Free participation!
This workshop is multilingual (FR/EN)
Thanks to register here!
Sorry, the workshop is full!
Een archief : 1999-2010-2019
Deze pagina is een archief van de iMAL website zoals die tussen 2010 en 2019 bestond. Alle activiteiten en projecten die sinds het begin in 1999 door iMAL georganiseerd zijn zijn hier gearchiveerd.
Het meest recente nieuws en activiteiten kan je terug vinden op onze nieuwe website: imal.org