bar.temp#1
Wednesday, 28 March 2012 | 16:00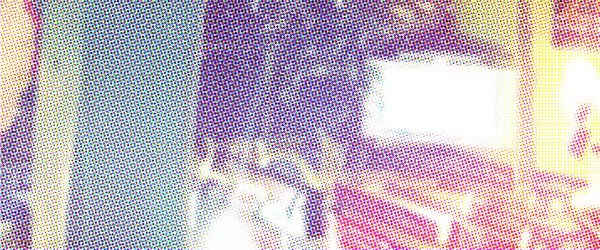 When messages turn into art
bar.temp is a pop up bar that appears in an unexpected location.
A temporary event that aims to link art, web culture and people.
bar.temp will temporarily take over the exhibition space of iMAL and turn it into a cosy place for eclectic and curious minds.
Flavoured with creative food prepared by a visiting chef and carefully selected drinks, bar.temp will definitely amaze you with its arty program presented in a casual ambiance.
Workshops#1: code and graph!
Make a statement! Create your own stencil patterns with a QR codes generator, F.A.T. Lab's QR_Stenciler (developped by Golan Levin) and the laser-cutter of iMAL's FabLab. We provide the tools, bring your ideas!
This workshop is led by iMAL's team.
Video screenings
An edgy look at society through the satirical, hilarious and often poetic artistic points of view. The video selection will blend animation film, fake advertising, performance recording, video clips...
Web art corner
All night long web show corner. In the perspective of a critique on our utilisation of media and information tools, how do artists stand up for those questions?
Live : Depth Affect
melancholic ballads, heavy bass and a bit of eighties sound for a great idm live act!
www.depth-affect.com
Guests' playlists
A colourful musical travel conceived by
- Pierre Deruisseau, specialist of afro-american music, will specialy compose a musical and time travel with powerful songs and voices politically engaged.
www.astrophonique.net
- Vlek label, beats and love from the great Brussel's label.
vlek.tumblr.com
- Debruit, well known for dropping beat in ethnic melodies, Debruit will send us a joyful capsule of funky music from his collection.
www.debruit.com
- Limbick frequencies, a fantastic and eclectic webradio from downtempo to electronic music streamed 24h/24h from Wisconsin.
www.limbikfreq.com
Creative food
... provided by Neptune restaurant, the already famous restaurant for local and bio products and natural wines. 3 courses menu (starter, main course, dessert) & sweet prices coming soon!
neptuneresto.com
Practical Info
Free entrance & friendly prices (food & drinks)
Free wifi available!

Doors: 6pm
Workshop: from 6pm to 8pm
Live: 9:30pm
Location: iMAL
30 Koolmijnenkaai - quai des Charbonnages
1080 Brussels, BE
An archive : 1999-2010-2019
This page is an archive of the iMAL website that operated between 2010 and 2019. It compiles activities and projects made since 1999.
For our most recent news and activities, please check our new website at https://imal.org