bar.temp#1
woensdag, 28 maart 2012 | 16:00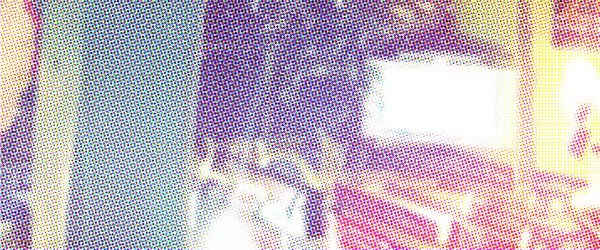 When messages turn into art
bar.temp is een pop-upbar die op een onverwachte locatie opduikt.
Een tijdelijk evenement dat kunst, webcultuur en het publiek met elkaar wil verbinden.
bar.temp zal tijdelijk de tentoonstellingsruimte van iMAL inpalmen en het omtoveren tot een gezellige plek voor eclectische en nieuwsgierige geesten.
bar.temp wordt op smaak gebracht met gastronomische creaties van een gastkok en een zorgvuldig samengestelde drankkaart.
Dit evenement zal je ongetwijfeld verbazen door zijn kunstzinnige programma in een casual sfeertje.
Workshops#1: code and graph!
Make a statement! Create your own stencil patterns with a QR codes generator, F.A.T. Lab's QR_Stenciler (developped by Golan Levin) and the laser-cutter of iMAL's FabLab. We provide the tools, bring your ideas!
Video screenings
An edgy look at society through the satirical, hilarious and often poetic artistic points of view. The video selection will blend animation film, fake advertising, performance recording, video clips...
Web art corner
All night long web show corner. In the perspective of a critique on our utilisation of media and information tools, how do artists stand up for those questions?
Live : Depth Affect
melancholic ballads, heavy bass and a bit of eighties sound for a great idm live act!
www.depth-affect.com
Guests' playlists
A colourful musical travel conceived by
- Pierre Deruisseau, specialist of afro-american music, will specialy compose a musical and time travel with powerful songs and voices politically engaged.
www.astrophonique.net
- Vlek label, beats and love from the great Brussel's label.
vlek.tumblr.com
- Debruit, well known for dropping beat in ethnic melodies, Debruit will send us a joyful capsule of funky music from his collection.
www.debruit.com
- Limbick frequencies, a fantastic and eclectic webradio from downtempo to electronic music streamed 24h/24h from Wisconsin.
www.limbikfreq.com
Creative food
... provided by Neptune restaurant, the already famous restaurant for local and bio products and natural wines. 3 courses menu (starter, main course, dessert) & sweet prices coming soon!
neptuneresto.com
Praktische Info
Vrije toegang & vriendelijke prijzen (food & drinks)
Free wifi!

Deuren: 18u
Workshop: van 18u tot 20u
Live: 21u30
Plaats: iMAL
30 Koolmijnenkaai
1080 Brussel
Een archief : 1999-2010-2019
Deze pagina is een archief van de iMAL website zoals die tussen 2010 en 2019 bestond. Alle activiteiten en projecten die sinds het begin in 1999 door iMAL georganiseerd zijn zijn hier gearchiveerd.
Het meest recente nieuws en activiteiten kan je terug vinden op onze nieuwe website: imal.org