Anarchronism Finissage
Sunday, 14 June 2015 | 18:00 - 20:30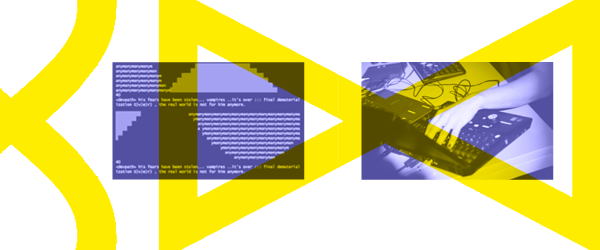 With performances by Valentina Vuksic & DEMOLECULARISATION
To finish the Anarchronism exhibition on a high note, we invite you for an evening of performances with Valentina Vuksic and DEMOLECULARISATION (jérôme & jean-francois Blanquet).
Valentina Vuksic - Tripping Through Runtime
Acoustic trips through the electromagnetic spheres of motherboards
An invitation to plunge into the relationships of hard and soft computer matter by acoustic means. On a collection of laptops a choreography of software is being performed running on various operating systems. The processes are traced via their electromagnetic emissions rendered audible. The undertaking aims at provoking and detecting specific behaviour of computer components caused by pieces of software and staging it for an audience to provide an experience of logic encountering the physical world.
Valentina Vuksic (CH), 1974, media artist and software developer, engages with the physical foundations of technological systems by audifying computing environments. Her artistic activities since 2008 are encompassed by "Tripping Through Runtime" performances and settings. Since 2012, artistic research assistant for the 'Computer Signals: Art and Biology in the Age of Digital Experimentation' project by Hannes Rickli at Zurich University of the Arts.
DEMOLECULARISATION - DATA connection

DATA connection is a project that decrypts the audio coding of data stored on tapes. The processing temporarily reveals texts that come from inside the network.
With portable analogue tape players, Jean-François Blanquet, joyfully mixes the sweet melodies of the digital code.
Using cables, the audio data stream is received by computers at full capacity. Jérôme Blanquet, with his sensibility of the moment, updates the texts appearing in the decoders.
A video projector brings out the content, which is then recorded in real time on a single VHS cassette.
Jean-François Blanquet (FR/BE) developed several projects, in which he combines sound and visuals by using specific processes such as transmission/wave reception (radio, infrared, wifi), electronic feedback and larsen (mixer + effects, computer, speaker + microphone), modification and appropriation of audio and video objects (circuit-bending), voice and cut-up (work on text, words and language). In his performances, he recycles technology and develops processes involving loops, larsens, re-injections of the signal and other chain reaction devices.
Jean-François Blanquet often works together with poets, video makers and musicians on multidisciplinary projects and is part of projectsinge group and DEMOLECULARISATION.
Practical Info
Free entrance
The exhibition remains open
Doors & Bar: 19:30
Performances: 20:00
Location: iMAL
30 Koolmijnenkaai - Quai des Charbonnages
1080 Brussels
An archive : 1999-2010-2019
This page is an archive of the iMAL website that operated between 2010 and 2019. It compiles activities and projects made since 1999.
For our most recent news and activities, please check our new website at https://imal.org